INNOVATE AND LEAD INTO THE FUTURE -THE EVEREST WAY

Develop innovative and entrepreneurial mindsets throughout the organization
Program through missions that transform ideas into results
FUTURIZE & HUMANIZE THE EVEREST WAY
INNOVATION PROGRAMS & KEYNOTES - FOR AMBITIOUS SOCIAL RESPONSIBLE PROFESSIONALS WHO DEMANDS RESULTS - INNOVATE BUSINESS - SUSTAINABILE SUCCESS - LIVEABLE LIVES - IN THE FOURTH INDUSTRIEL REVOLUTION

THE EVEREST WAY – simple methods to complex transformations in I4.0
THE EVEREST WAY – 1 of the worlds most innovative Leadership programs
FUTURIZE THE EVEREST WAY – ACHIEVE what's never been done before 

FUTURIST LENE GAMMELGAARD
FUTURIST top-rated moTIVATIONAL SPEAKER - INNOVATOR OF HUMAN INNOVATION & DECENCY LEADERSHIP
PEOPLE COMMIT TO A MISSION - NOT A BOTTOM LINE
THE 4 INDUSTRIAL REVOLUTION FORCE ALL OFF US TO ABANDON STATUS QUO – WE MUST LAUNCH INTO THE UNKNOWN
SIMPLE SOLUTIONS TO COMPLEX CHALLENGES
SIMPLE MENTAL STRATEGIES TO THE COMPLEX TRANSFORMATIONS IN I4.0
Are you and your organisation confronted with complex demands for future development / change – and collaborating across barriers as – a team. Does it feel like scaling  the world's highest mountain, Mount Everest?
FUTURIZE THE EVEREST WAY – are Keynotes & expansion processes – 1 of the world's most effective innovation methods to utilize unknown challenges to generate succes.
How do you maintain your core DNA – yourself in the 4th Industriel Revolution? 
THE EVEREST WAY – Provides simple solutions for complex transformations in I4.0 – and develop entrepreneurship and innovative approach to future requirements throughout the organization.
BOOK: FUTURIZE THE EVEREST WAY to lead into the future. You get a mental methodology – to succeed with what has never been achieved before.
FOR HUMANKIND TO BENEFIT FROM THE LIMITLESS OPPORTUNITIES IN I4.0 - WE MUST INNOVATE OUR BELIEFS IN WHAT IS POSSIBLE - THEN WE MUST COMMIT - TO VENTURE INTO THE UNKNOWN - TO ACHIEVE WHAT'S NEVER BEEN ACCOMPLISHED BEFORE. TO KEEP IT SIMPLE I CALL IT - FUTURIZE - THE EVEREST WAY
FUTURIZE YOURSELF & YOUR ORGANIZATION – WE CAN INNOVATE THE FUTURE – ONE BRAIN AT THE TIME
Our mission is to mobilize sustainable worthwhile expansion in you and your organization. At HUMAN INNOVATION, we seek to deliver truly innovative and life-changing result oriented programs for our clients. 
Our vision as a company is to inspire major global collaboration through the discovery, the innovation, the development, and the commercialization of methods to expand human capacity to drive innovative, sustainable transformations in the 4th industrial revolution to pursue livable lives for the greater good of humankind
To ensure your success – Lene Gammelgaard offers her tested mental program FUTURIZE THE EVEREST WAY Keynotes and processes– to succeed at what has never been achieved before. 
ARE YOU STRIVING FOR A LIVABLE FUTURE?
WE CAN INNOVATE OUR FUTURE IN I4.0 - ONE BRAIN AT THE TIME
FUTURIZE THE EVEREST WAY ARE MENTAL METHODS THAT EXPLODE HABITUAL LIMITATIONS AND MOBILIZE IDEALISTIC GOALS. DEVELOP COMPELLING ORGANIZATIONAL MISSIONS THAT MOBILIZES TALENTED EMPLOYEES TO CO-CREATE I4.0. OUR BRAIN IS THE GPS – THAT CAN INNOVATE MENTAL CONCEPTS AND WAYPOINTS – TO THE FUTURE WE STRIVE FOR. THE EVEREST WAY MOBILIZE HOPE INSTEAD OF POWERLESSNESS IN THE MULTITUDE OF POSSIBILITIES IN THE 4 INDUSTRIEL REVOLUTION.
EXPANSION CAN'T BE SUSTAINED IN I4.0 UNTIL PEOPLE ARE MOBILIZED THROUGH INNOVATIVE LEADERSHIP
For Organizations to grow and expand in I4.0 people must be mobilized innovatively. Business cannot develop in I4.0 until humans do. Gallup finds that only 1 in 10 managers succeed in mobilizing their workforce to perform efficiently. Fact is – that only 1 in 10 are excellent leaders – consequently less than 20% of the 27 million employees in the survey were efficient at work. If similar statistics applies to political influences – we have a unique chance – in our hyper connected era – to constructively influence the future – if we innovate how to unleash human capital – lead to mobilize untapped potential – through compelling missions to a livable future
Think – and figure out what no one else is contributing to the world right now, innovate it – an do it well, risk bringing it to market and pursue the implementation with stubbornness. Risking what's never been achieved before – offers the greatest possibility of success, rapid acceleration, and hyper-growth. Global it connectivity in I4.0 secures – that we can promote global expansions – only with etic core values.
The matrix for social responsibility in business and global politics is already here!
Innovating a mission for an envisioned future in i4.0 is a high-risk investment with no guarantees of success. Risk is the prerequisite for innovation. Global shapers are increasingly aware of the importance of assuming market risk through pioneering for the future in i4.0. If leaders aim for organizational expansion – they must risk launching into the unknown in i4.0. Assuming risk is also a critical accelerant of the personal disruption that fuels individual professional growth.
So how must we – AS INDIVIDUALS – advance INNOVATIVE Leadership development AND expand Human Innovation to utilize the infinite opportunities FOR THE GREATER GOOD OF HUMANKIND in I4.0? 
We are confronted with a worldwide need for effective - Leadership methods
THE WORLD IS IN TURMOIL. Global stability gives rise to considerably reflections. The global economic and ecological system are under existential stress. The rapid pace of technological transformation and rising inequality are fueling the urgency of a sound and decent revision of the entire GLOBAL financial matrix that we at present take for granted. For governments and organizations to cope with mounting pressures, we will need to rethink habitual socialized perceptions – we have relied on for well over a century. The Matrix we have formed our consciousness after the last decades – does not lead to a desirable global future. What shall we innovate instead? We live in disruptive action-intensive scenarios. The possibilities of humankind will change more in the next 20 years than in the previous 100. Countless Megashifts affect our existence. Digitization and the 4 Industrial Revolution transform us – whether we want it or not. Business and market conditions are revolutionized exponentially. Global HYPER Connectivity bombards us with a constant stressing load of diverse information. How do we navigate as individuals, managers, employees, countries – so we create viable lives? So far, after all, it's still US – HUMANS who are programming the computers and determining governing rules. A combination of innovative BOLD guiding missions for our common global future, how – why and for what – we innovate talent and technology – will determine how the Fourth Industrial Revolution will drive economic and climate sustainability, equality and other benefits to societies and Humankind.
ARE YOU STRIVING FOR A FUTURE WORTH LIVING?
FUTURIZE THE EVEREST WAY - SIMPLE METHODS TO COMPLEX TRANSFORMATIONS IN I4.0
SURVIVAL OF THE FUTURISTS
FUTURIZE - THE EVEREST WAY - for the 4 Industrial Revolution
We are revolutionized by the world's largest transformation since the first industrial revolution in the 18th century. The 4 Industrial Revolution (I4.0) is a exponential fusion of technologies that erase the boundaries between the physical, digital and biological. The 4 Industrial Revolution is characterized by technological breakthroughs in a number of areas, including robotics, artificial intelligence, nanotechnology, quantum computing, biotechnology, the internet of things, CLOUD COMPUTING AND COGNITIVE COMPUTING, 3D printing and autonomous vehicles. The 4 Industrial Revolution transforms most industries - in all corners of the globe. The speed and scope of these innovations dictate the rethinking of entire production systems, human resources, management and global policies. The overwhelming array of trends, mega shifts and connectivity - requires the individual to reflect and take responsibility to create a viable future - with focus on liveable lives for HUMANS.
WE MUST RISK LAUNCHING INTO THE UNKNOWN
THE EVEREST WAY MOBILIZE YOUR EXPANSION IN THE 4 INDUSTRIAL REVOLUTION
"When I had said YES to Scott Fischer's question – Do you want to climb Mount Everest with me? – the first thing I thought was: I can not! " and I was exposed to my deepest anxieties of not being capable…. And then there was a quantum leap explosion in my mind – that mobilized resources I were not aware that I had. I became mobilized from deep within – I became INNOVATED. I was simply pressured to innovate EVERYTHING – that was needed to make THE COMPELLING VISION of scaling MOUNT EVEREST with like minded people – come true. Starting with that I had to fool myself into believing that – I would be able to accomplish something, I did not have evidence for I could. Nothing could stop me from reaching the top of the world's highest mountain. I invented unorthodox methods to optimize my limited ressources – and developed my mental programming – Two the Summit and Safe Return – that supported my climb and maybe helped me survive where others died. What was mobilized in me – has been a groundbreaking and sustained enrichment. Therefore, I have dedicated my life to researching and developing HUMAN INNOVATION. 
I have invested 20 years developing THE EVEREST WAY - mental programming - because it IMPROVES LIFE for ALL in ALL contexts
your return of investment is my 1 concern
FUTURIZE THE EVEREST WAY - FOR AMBITIOUS SOCIAL RESPONSIBLE PROFESSIONALS AROUND THE GLOBE WHO DEFINE AND INNOVATE THE WAY WE THINK SUSTAINABILITY - SUCCESS - LIFE - CODE OF CONDUCTS IN POLITICS - BUSINESS AND WORK - IN THE FOURTH INDUSTRIEL REVOLUTION - FOR THE GREATER GOOD OF HUMANKIND
THE EVEREST WAY – SIMPLE METHODS TO COMPLEX TRANSFORMATIONS IN I4.0
THE EVEREST WAY is one of the world's most efficient change methods. THE EVEREST WAY is for anyone who wants MORE. Or is forced to adapt by contemporary upheavals. THE EVEREST WAY gives you a project and process model, as well as mental strategies that have been tested on extreme and varied goals. No theory – HANDS-ON results. Clear focus – the will to suffer and endurance – are just some of the messages that give insights the audience never forget.
THE EVEREST WAY creates extraordinary measurable results. In individual people and throughout – Global companies. THE EVEREST WAY gives responsibility for the future to the people who will live with the consequences. And it revitalizes – and installs collaboration – also across cultures and borders.
NEURO LEADERS SHIP is targeted to the entire organization from bottom to top management and boards. The greater the innovative capacity the individual develops – the more we can invent. When a human is expanding the brain's capacity, it can create new growth without additional costs. When every individual in entire organizations – expands their brain capacity, that really transforms the prospects!
NEUROLEADERSHIP is also crucial to HUMANIZE when WE FUTURIZE. That we all focus on the Greater Good for HUMANKIND in the 4 Industriel Revolution.
This presentation provides mental tools that ensure expansion in and of the individual in any market and Trend. Understand why the brain "helps us" – when we have a clear focus projected into the Future. NEURO LEADERSHIP is an ingenious proposition for launching innovative initiatives. As well as transform outward disruptions to future success.
Futurize yourself and your organisation. Riskwillingness is the prerequisite for innovation & futurization. Are you & your business – committed to improving the state of the world?
DECENCY LEADERSHIP is for everyone who DARES, YOU who are creators of a common future for the Greater Good of Humanity. To ALL – striving for a future worth living. TO LEADERS, who really WILL lead into the future. Maybe naive ??? But there is growing focus and demand for social responsibility, fair trade, sustainability in the utmost sense. We navigate in a matrix shift – from hyper consumerism to – I claim and the blue eminence in Davos – towards decency in our approach to shaping business and society. So, even though DECENCY LEADERSHIP perhaps initially sounds naive and long-term – it's the recipe – that we will survive in the future. Funny, it's also DECENCY – most employees are looking for in a leader …..
HUMANIZE WHEN WE FUTURIZE. We live in a technological stampeed – to utilize the 4 Industriel Revolution to the advantage of HUMANS, we must strengthen the individual to choose and not loose.
HUMAN INNOVATION – LIKE NEVER BEFORE is for whole organizations, teams, any group of people who strive beyond STATUS QUO. This KEYNOTE is both a mental recipe for inventing towards the future we dream about. And the recipe for how we adapt to the rapidly changing era – without existential fear of what to expect.
This presentation is aimed at mobilizing and supporting organizational transformation processes where ALL participation is a prerequisite for success.
Requested WORLDWide as this KEYNOTE mobilizes renewed hope, self-responsibility and continuous fighting spirit.
FUTURIZE YOURSELF AND YOU BUSINESS
Book - THE EVEREST WAY - SIMPLE SOLUTIONs TO COMPLEX CHALLENGES
GREAT LEADERS DO NOT FOCUS ON INCREASED TURNOVER - THEY INSPIRE THROUGH WORTH WHILE MISSIONS

OUTSTANDING LEADERS IGNITE COLLABORATION THROUGH A COMPELLING VISION FOR THE FUTURE

TRANSFORMING LEADERS mobilize INDIVIDUALS - BY INVITING THEM TO CONTRIBUTE TO A MISSION

FUTURIZE - THE EVEREST WAY
THE EVEREST WAY - 1 of the world's most EFFECTIVE LEADERSHIP METHODS
MISSION INNOVATION TEST: ALL INVOLVED MUST BE ABLE TO COMMUNICATE THE COMPANY MISSION IN LESS THAN 5 MINUTES AND IGNITE A REACTION THAT SIGNIFIES AMAZEMENT AND INTEREST – IF NOT THE MINDS AND HEARTS OF THE INDIVIDUALS YOU NEED TO CREATE RESULTS ARE NOT MOBILIZED
WE CAN INNOVATE THE FUTURE - ONE BRAIN AT THE TIME
True Innovation starts in OUR brain
What if I told you there was something that you and your employees can do right now that would have an immediate, positive benefit for your business prospects including the overall collaborating culture in your organization?
And what if I told you that IT innovates on an individual level
And what if I told you that anyone can do IT and IT costs nothing
And what if I told you that IT serves expansion into the Future
And what if I told you that I have personally tested IT in the most extreme environment 
And what if I told you IT worked – and that I have transferred IT to achieve other Goals – and IT works  
Would you implement IT?
I am talking about the powerful effects of disciplining the brain.  
NEUROLEADERSHIP – USE HARD SCIENCE TO TRANSFORM HUMANS EFFECTIVELY 
I want to share my story about how I came to my experiencebased understanding of neuroscience. I invented an experiment with myself in which I discovered the science underlying the most transformative step that you can take for your progress – today. Neuroprogramming has immediate, long-lasting benefits for the rest of your life.
When I said YES and committed to want to climb Mount Everest in 1996 – something unprecedented happened in my brain. I experienced the brain-transforming effects of wanting something – enough.
I turned myself into a human gunniea pig – experimented with my brain without knowing the actual effects. And I invented THE EVEREST WAY it in a completely inadvertent way. 
Committing ALL towards Everest was changing my brain.
I encountered something that was so amazing, with the potential to change so many lives, that I have dedicated my life to share and expand IT.
I am passionately dedicated to Human Innovation – The Everest Way. 
Everest changed my Brain! THE EVEREST WAY explodes all inner and outer limitations – and therefore expands my future opportunities.
Because I experienced a quantum leap transformation process when I said yes to want Everest, learned how to program my will while preparing mentally for 6 months before actually setting foot on the mountain, to push through when the going got rough and surviving where others did not – I have dedicated myself to study neuroscience and expand Human Innovation and promote Decency Leadership as simple solutions to the complex challenges of HUMANIZE as we FUTURIXE for the 4 Industrial Revolution.
Today Neuroscience uncovers more and more about the most complex structure known to humankind. Our Brain. The more I learn, the more research supports what I experience myself – how powerful the human hard drive – our Brain is. Which recently led me to the risky decision to completely shift my focus towards expanding The Everest Way – Human Innovation – because taking charge over our own brains has the potential to transform so many lives. 
And it's free!
We can influence our common future!  And I firmly promote self-responsibility. That we choose – not to loose ourselves in the 4 Industrial Revolution.
We can commit to improving the state of the world!
One Brain at the Time!
THE MOST IMPORTANT SKILL IN THE AGE OF ARTIFICIAL INTELLIGENCE AI ?​
AI=Artificial Intelligence. AI cannot invent what does not already exist. HUMANS CAN. AI can perform repetitive tasks at an extremely efficient rate. So in the age of AI human creativity will have more significance than ever before.
The human mind is creative and imaginative. Humans are able to imagine visions of the future which we then bring to life. As Walt Disney said, "if you can dream it, you can do it." 
HUMAN INNOVATION – THE EVEREST WAY
The key to our future is that more and more industries will implement the upsides of AI, which may lead to a reduced workforce in the areas of the workforce that require repetitive tasks. Instead, the world will need more creativity in all endeavors, even in regards to implementing and leveraging AI technology creatively.
HUMAN INNOVATION
Futurist - TOP MANAGEMENT THINKER & INTERNATIONAL KEYNOTE SPEAKER
Global prospects for 2018
The world economy has strengthened as lingering fragilities related to the global financial crisis subside. In 2017, global economic growth reached 3 per cent—the highest growth rate since 2011—and growth is expected to remain steady for the coming year.  The improved global economic situation provides an opportunity for countries to focus policy towards longer-term issues such as low carbon economic growth, reducing inequalities, economic diversification and eliminating deep-rooted barriers that hinder development. To commit to strive for the greater good of humankind.
World Economic Forum-Committed to improving the state og the World
Today's humane predicament requires interested parties to engage in responsible efforts to innovate the foundations of societies.
In the past decades, countries that evolved through widely distributed prosperity had a potent social contract as their guiding mission. Equalizing struggles to sharing prosperity between capital and labor.  
Today we witness a spreading awareness that capitalism is THE global guiding principle – a "human misusing matrix" – where business is the winner. Moreover, individuals are reduced to producing units or numbers in statistics.
Human beings need meaning – to commit and change…………
How can we innovate correcting efforts to strive for a better future and take responsibility to decipher the social-moral crisis?
How to discard the repetitive patterns of capitalism and stop doing more of the same – in an attempt to produce us out of a paradigm shift – towards DECENCY LEADERSHIP & HUMAN INNOVATION.
Business, with its global span and influence, can take the lead. Business is a major stakeholder in the shape of the global economic and human scheme.
Business leaders can play a leading role. Decency Leadership is a simple solution to complex challenges.
To strive beyond Status Quo we must focus as much on the quality of economic growth as on the quantity of it as traditionally measured by GDP.
We must ensure the Fourth Industrial Revolution unfolds with humanity at its center. Because that is the only strategy for long-term success. Global stability.
We can only strive for a better future for humankind to the extent of your passion and your engagement.
Commit locally – transform Globally.
Utilize NOW to catalyze action from your groundbreaking ideas – to commit to improving the state of the world.
My hope is that you will be intrigued by the exponential pioneering development potential – The Everest Way programming mobilizes.
Strive for a better future – commit to improving the state of the world.
Because most want to commit to a leader and an organization that makes a difference in the world.
We can influence our shared future – One Brain at the Time.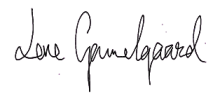 OUR BRAIN IS THE GPS TO THE 4 INDUSTRIAL REVOLUTION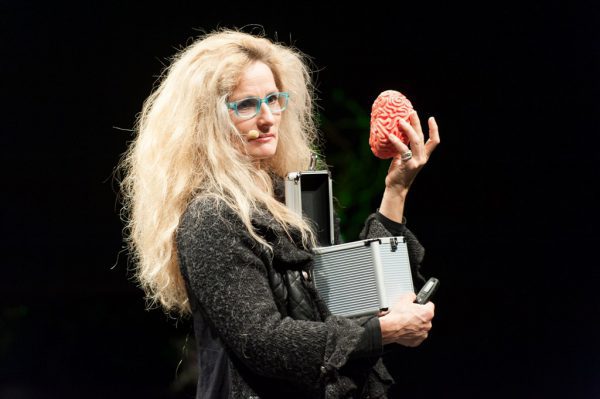 The worlds most innovative transformation method
One of the most important insights in our decade is NeuroLeadership – Mental Programming. NEUROLEADERHIP is the Radical neuro research based idea, that you can innovate capacity by disciplining how you think. NEUROLEADERSHIP is infinitely multiplicable and cost nothing. 
Progress exponentially – THE EVEREST WAY. Expand and lead into the Future – FUTURIZE Humans who lead for the future of I4.0 with HUMAN INNOVATION  
SERENITY IS ESSENTIAL TO INNOVATE
OFFLINE IS ESSENTIAL TO REWIRE
We can innovate the future
One brain at a time
The Everest Way is for you who wants to transform States Quo and innovate the opportunities of the Future. The Everest Way – is – NeuroProgamming that mobilizes quantum leap's development focus, risk willingness, self-responsibility and extreme perseverance. The w prerequisites for driving groundbreaking innovative and disruptive initiatives from idea to implementation
REWIRE IS THE FOUNDATION FOR MISSION INNOVATION
THE HUMAN BRAIN IS OUR GPS TO THE FUTURE WE WANT !​
WE CAN INFLUENCE THE FUTURE OF I4.0 - ONE BRAIN AT THE TIME
THE FUTURE IS GOOD FOR THOSE WHO INNOVATE IT
INNOVATE YOURSELF IN OUR HYPER CONNECTED WORLD
FUTURIZE & HUMANIZE MEGASHIFTS TO YOUR ADVANTAGE​​
I have developed – THE EVEREST WAY – Innovative Mental Strategies that mobilize leadership, organisations, and individuals to be frontrunners of the future. I invented The Everest Way – when I committed to scale Mount Everest in 1996. 3 universal mental step that explodes all limitations. Mental programming that secures implementation.
Lene Gammelgaard – excemplifies the transformative power of the spoken word. Lene offers Keynote speaking, motivational talks, business talks, seminars, workshops and OLD-Outdoor Leadership Development to mobilize personal and professional innovation in individuals, organisations and companies worldwide. FUTURIZE TODAY
FUTURIZE. Lene is typically hired by companies, organizations and institutions that are serious about launching future visions, innovate next-generation products, collaborate to transform the organization across continents. Pioneering companies who acknowledge that to succeed long-term – we need to take novel action to integrate the overall vision of World Economic Forum – Committed to improving the state of the world  
How to innovate your preferred future - THE EVEREST WAY
your return of investment is my 1 concern
Book - THE EVEREST WAY - SIMPLE SOLUTIONs TO COMPLEX CHALLENGES
GREAT LEADERS DO NOT FOCUS ON INCREASED TURNOVER - THEY INSPIRE THROUGH WORTH WHILE MISSIONS

OUTSTANDING LEADERS IGNITE COLLABORATION THROUGH A COMPELLING VISION FOR THE FUTURE

TRANSFORMING LEADERS mobilize INDIVIDUALS - BY INVITING THEM TO CONTRIBUTE TO A MISSION

THE EVEREST WAY – SIMPLE METHODS TO COMPLEX TRANSFORMATIONS IN I4.0
People are motivated by a mission
not demands for increased bottom line
Your mission innovates your strategy
I deliver solutions – you implement
Leadership transformation for our common global future
Do you know that you can program your brain?
Your brain is your GPS for the future!
You get implementable steps for a livable future
Discipline Integrity – mobilize Results No Others Dare!
Futurize yourself and your organisation. Are you and your organization – committed to improving the state of the world?
Talented people dedicate their resources to a leader and an organization that will make a difference in the world. We are in a future matrix – where we can no longer deny our employees' quest for meaning
As a future leader, you must establish the foundation for a
Collaborating culture through compelling missions that creates vision mobilizes individuals to expand their untapped potentials.
Innovate a worth while mission for the greater good – and leave the rest to your self-driven teams!
FUTURIZE – THE EVEREST WAY – FOR THE GREATER GOOD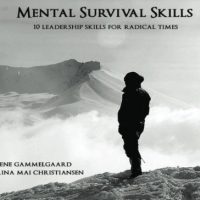 10 Mental Leadership Survival skills
This spectacular booklet consists of 10 profound texts for reflection and rejuvenation. Accompanied by stunning photo's with wise quotes to excavate and reawaken purpose in – and Zest for Life. The wisdom of this booklet will sustain you through radical and tough times – as leader for others and for you – leader of your own destiny. An outstanding give away at any venue. Use it on an everyday basis to mobilizing insight that re-inspire even in the darkest of times. Success is a matter of passion, decision, risk willingness, willpower mental preparation, execution and the will to suffer endurance and recommitment. Lene vividly shares her simple steps to program your brain to ignite focus and persevere until you have achieved your unique goals.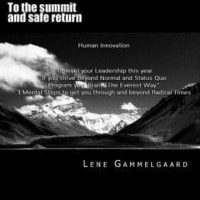 To the Summit and Safe Return
 Do you dare to pursue your innermost dreams? To the summit and safe return gives the reader a thrilling insigh into high altitude mountaineering as well as a strategic tool kit to living and a sobering book, packed with hands-on experiences you can apply today to achieve the life you dream about. To the Summit and Safe Return is revised version of best selling Climbing High. A humble account of human experience around May 10th Get to know Scott Fischer an Anatoli Boukreev and discover how to risk and mobilize your own grand vision form the first Scandinavian woman to scale and survive Mount Everest on May 10th 1996.
I4.0 FUTURIZE & HUMANIZE INNOVATOR GROUP
Lene is in high demand globally - also by Fortune 500 Companies
Lene Gammelgaard has spoken across continents and professions to hundreds of industries for more than 20 years. WE CAN HELP YOU EXPAND FOR THE FUTURE OF I4.0
Lene Gammelgaard-FUTURIZE THE EVEREST WAY, Morten Nielsen-ROBOT CLUSTER 
Martin Heide Jørgensen SDU FUTURE LAB, Lasse Thomsen ROBOT INNOVATOR      SCANBOT-ROBOT
A.T. Kearney, ABB A/S,ABB Robotics GmbH, Aeon Consulting Group Switzerland, Allianz GmbH, Allinace Politikerin Forum, AMKA, B&O Chicago, BBE Retail Experts, BHB Marketing GmbH, Bilfinger Berger GmbH, BMW, Boston Consulting Group, Capvis, Capvis Zürich, Colombus IT, COOP, Comlux Aviation Spain, Continental, Daimler Chrysler, Danica, Dafolo, Danish Business Counsil Dubai, Dansk Supermarked, Den Danske Bank, Deutsche Bank, Deutsche Bank Incentive Reisen "Club der Besten" Kuusamo, Ekstra Bladet, Finland, Deutsche Bundes Bahn, Deutsche Gesellschaft für Qualität, Deutsche Telecom, DHL Solutions GmbH, DFDS, DTU-Technical University, DZ Bank AG, Ecco Shoes, EFQM Forum Berlin, Egmont Koncern, Elli Lilly GmbH, Frederikssund Kommunale Ledere, General Electric, Grundfos, Hamlet Private Hospital, Hilti Lichtenstein, IBM, IDA, Janssen-Cilag, Lego, Maersk, McKinsey Women's Workshop Sweden, Mekom Schweiz, Merck Aussendienst Berlin, Ministry of Education, Mobil Oil, MT Højgaard A/S, Naturstyrelsen, NCC, Netto, New Directions Boston, Norwegian Defence Logistics Operation, Nokia Siemens Russia, Novo Nordisk A/S, Novozymes, PFA, Point S Italy, Rockwood Litium USA, Sabex Canada, SAS-Institute IT, SAS-Scandinavian Airlines, Scandinavian Fur, Scandlines, Schwarzkopf Professional AG South Africa, SEB Bank, Shell Paris, Silvan A/S, Skanska, Swiss Reassurance Company Zürich + Zermat, SSAB Stockholm, Systemhaus Bissinger Gmbh, TATA Consultancy Services, T-Systems, Valliant, Velux, VERO MODA, Vestas, VIP-Ambassadors Tour Norway, Voith Paper Automation, Aarhus University, Business and Social Sciences, Department of Economics and Business