ARE YOU STRIVING FOR A LIVEABLE FUTURE?
FUTURIZE THE EVEREST WAY – 1 of the worlds most innovative transformation programs
INNOVATE – FUTURIZE – HUMANIZE – I4.0 – THE EVEREST WAY. WE CAN INNOVATE A DESIRABLE FUTURE – ONE BRAIN AT THE TIME. FOR HUMANKIND TO BENEFIT FROM THE LIMITLESS OPPORTUNITIES IN I4.0 – WE MUST INNOVATE OUR BELIEFS IN WHAT IS POSSIBLE – THEN WE MUST COMMIT TO IDEALISTIC MISSIONS – AND RISK – VENTURING INTO THE UNKNOWN – TO ACHIEVE WHATS NEVER BEEN ACCOMPLISHED BEFORE. TO KEEP IT SIMPLE  I CALL IT – FUTURIZE THE EVEREST WAY – IF YOU ARE STRIVING FOR A LIVABLE FUTURE: contact@lenegammelgaard.com
FUTURIST LENE GAMMELGAARD
TOP-RATED MOTIVATIONAL SPEAKER
GLOBAL THOUGHT LEADER -INNOVATOR OF HUMAN INNOVATION & DECENCY LEADERSHIP
PEOPLE COMMIT TO A MISSION - NOT A BOTTOM LINE
MISSION INNOVATION TEST: ALL INVOLVED MUST BE ABLE TO COMMUNICATE THE COMPANY MISSION IN LESS THAN 5 MINUTES AND IGNITE REACTIONS THAT SIGNIFIES AMAZEMENT AND INTEREST – IF NOT – THE RESOURCES OF THE INDIVIDUALS YOU NEED TO CREATE THE RESULTS ARE NOT MOBILIZED
SIMPLE SOLUTIONS TO COMPLEX CHALLENGES
FUTURIZE YOURSELF & YOUR ORGANIZATION – WE CAN INNOVATE THE FUTURE – ONE BRAIN AT THE TIME
At HUMAN INNOVATION – we aim to deliver truly innovative and life-changing mission innovation programs for our clients. Our mission is to mobilize sustainable worthwhile agile innovation in you and your organization. 
Our vision is to inspire major global collaboration through the discovery, the innovation and the commercialization of methods to expand human capacity to drive sustainable transformations in the 4th industrial revolution to pursue the greater good of humankind in compliance with the 17 Global Suatainabilty Goals.
ARE YOU STRIVING FOR A FUTURE WORTH LIVING?
"Lene really did transform the entire organization with words!"
FUTURIZE THE EVEREST WAY  Provides simple solutions for complex transformations in I4.0 – and mobilize individuals who lead the future.  
BOOK: FUTURIZE THE EVEREST WAY  accomplish what has never been achieved before. 
FUTURIZE THE EVEREST WAY is 1 of the world's most effective transformation processes for individuals, social entrepreneurs, managers, leaders and entire organizations.
I want to let you know that your lifelong message of hope, positive action, self-help and attitude have been an inspiration to me for many years.  In my role as a recruiter I coach people daily on the challenges they face supporting demanding clients in business cultures that are ambiguous and sometimes just mean.  It resonates well with me that you have use your experiences Climbing High as a platform to motivate others.  I feel like you have mentored and enabled me to do the same thing for many people and I wanted to thank you for that.                                           
John Triggs | Senior Technical Recruiter| Genesis10 for mid sized to Fortune 100 companies
FUTURIZE THE EVEREST WAY - INNOVATE I4.0 - FOR THE GREATER GOOD OF HUMANKIND
Lene is definitely one of the world's top 10 motivational speakers
From Lene's first lecture on Everest 1996 to her current status as one of the world's most prominent futuristic speaker focusing on FUTURIZE THE EVEREST WAY – HUMAN INNOVATION for the 4 IR – Lene Gammelgaard is a massive contribution to professional events across cultures. Lene's ability to mobilize your Event participants is crucial to ensuring your ROI – Return of Investment.
FUTURIZE THE EVEREST WAY – clarify your future mission as a GPS to utilizing the complexities any industry and organization are confronted with in the 4 Industrial Revolution to expand agile innovation. 
THE HUMAN BRAIN IS OUR GPS TO THE FUTURE WE STRIVE FOR
We are altered by the world's largest transformation since the first industrial revolution in the 18th century. The 4 Industrial Revolution (I4.0) is a exponential fusion of technologies that erase the boundaries between the physical, digital and biological. The 4 Industrial Revolution is characterized by technological breakthroughs in a number of areas, including robotics, artificial intelligence, nanotechnology, quantum computing, biotechnology, the internet of things, cloud computing and cognitive computing, 3D printing and autonomous vehicles. The 4 Industrial Revolution transforms most industries - in all corners of the globe. The speed and scope of innovations dictate the rethinking of entire production systems, human resources, management and global policies. The overwhelming array of trends, mega shifts and connectivity - requires the individual to reflect and take responsibility to create a viable future - with focus on liveable lives for HUMANS.

A PROJECTION OF A DESIRED FUTURE - MOBILIZES FROM DAY 1.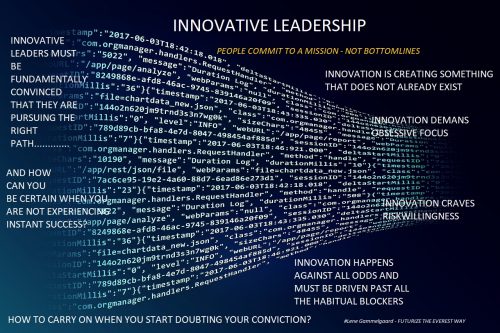 Only 1 in 10 LEADERS - motivatE employees efficiently
Gallup has studied performance in organizations and measured the engagement of 27 million employees and more than 2.5 million work units over the past two decades. Managers account for at least 70% of variance in employee engagement scores across business units, Gallup estimates. This variation is in turn responsible for severely low worldwide employee engagement. Harvard Business Review studies find that particularly senior executives display an unwillingness to think rigorously about innovating their world perspectives and their ideas of how organizations are managed and transformed. Which poses an inbuilt risk for hampering employee commitment to utilize the infinite, risk demanding opportunities of the 4th Industrial Revolution. Worse, over the past 12 years, these low numbers have barely budged, meaning that the vast majority of employees worldwide are failing to develop and contribute at work.
People must be mobilized through innovative leadership and management to create sustainable results in I4.0.
Futurize The Everest Way – provides simple mental methods that explode habitual limitations. Innovate mobilizing organizational missions to unify talented employees to pursue extraordinary results in I4.0.
WE CAN INNOVATE THE FUTURE - ONE BRAIN AT THE TIME
True Innovation starts in OUR brain
What if I told you there was something that you and your employees can do right now that would have an immediate, positive benefit for your business prospects including the overall collaborating culture in your organization?
And what if I told you that IT innovates on an individual level
And what if I told you that anyone can do IT and IT costs nothing
And what if I told you that IT serves expansion into the Future
And what if I told you that I have personally tested IT in the most extreme environment
And what if I told you IT worked – and that I have transferred IT to achieve other Goals – and IT works
Would you implement IT?
I am talking about the powerful effects of disciplining the brain.
I want to share my story about how I came to my experiencebased understanding of neuroscience. I invented an experiment with myself in which I discovered the science underlying the most transformative step that you can take for your progress – today. Neuroprogramming has immediate, long-lasting benefits for the rest of your life.
When I said YES and committed to want to climb Mount Everest in 1996 – something unprecedented happened in my brain. I experienced the brain-transforming effects of wanting something – enough.
When I had said "YES" to Scott Fischer's question – Do you want to climb Mount Everest with me? – the first thing I thought was: "I can not!" and I was exposed to my deepest anxieties of not being capable…. And then there was a quantum leap explosion in my mind – that mobilized resources I were not aware that I had. I became mobilized from deep within – I became INNOVATED. I was simply pressured to innovate EVERYTHING – that was needed to make THE COMPELLING VISION of scaling MOUNT EVEREST with like minded people – come true. Starting with that I had to fool myself into believing that – I would be able to accomplish something, I did not have evidence for I could. Nothing could stop me from reaching the top of the world's highest mountain. I invented unorthodox methods to optimize my limited ressources – and developed my mental programming – To the Summit and Safe Return – that supported my climb and maybe helped me survive where others died. What was mobilized in me – has been a groundbreaking and sustained enrichment. Therefore, I have dedicated my life to researching and developing HUMAN INNOVATION.
I SAID YES AND THOUGHT – I CAN NOT! – SO I WAS FORCED TO INNOVATE MYSELF
I turned myself into a human gunniea pig – experimented with my brain without knowing the actual effects. And I invented THE EVEREST WAY it in a completely inadvertent way.
Committing ALL towards Everest was changing my brain.
I encountered something that was so amazing, with the potential to change so many lives, that I have dedicated my life to share and expand IT.
I am passionately dedicated to Human Innovation – THE EVEREST WAY.
Everest changed my Brain! THE EVEREST WAY explodes all inner and outer limitations – and expands future opportunities.
Today Neuroscience uncovers more and more about the most complex structure known to humankind. Our Brain. The more I learn, the more research supports what I experience myself – how powerful the human hard drive – our Brain is.
Taking charge over our own brains has the potential to transform so many lives.
And it's free!
We can commit to improving the state of the world - One Brain at the Time!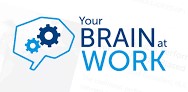 FUTURIZE - THE EVEREST WAY
SIMPLE METHODS TO COMPLEX TRANSFORMATIONS IN I4.0
WE MUST RISK LAUNCHING INTO THE UNKNOWN
your return of investment is my 1 concern
MISSION INNOVATION TEST: ALL INVOLVED MUST BE ABLE TO COMMUNICATE THE COMPANY MISSION IN LESS THAN 5 MINUTES AND IGNITE REACTIONS THAT SIGNIFIES AMAZEMENT AND INTEREST – IF NOT THE INDIVIDUALS YOU NEED TO CREATE RESULTS ARE NOT MOBILIZED
I have invested 20 years developing THE EVEREST WAY - mental programming - because it IMPROVES LIFE for ALL - in ALL contexts
THE EVEREST WAY is one of the world's most efficient change methods. THE EVEREST WAY is for anyone who wants MORE. Or is forced to adapt by contemporary upheavals. THE EVEREST WAY gives you a project and process model, as well as mental strategies that have been tested on extreme and varied goals. No theory – HANDS-ON results. Clear focus – the will to suffer and endurance – are just some of the messages that give insights the audience never forget.
THE EVEREST WAY mobilize measurable results. In individuals and throughout – Global companies. THE EVEREST WAY gives responsibility for the future to the people who will live with the consequences. FUTURIZE THE EVEREST WAY revitalizes – and mobilize collaboration – also across cultures and borders.
NEURO LEADERS SHIP is for the entire organization from bottom to top management and boards. The greater the innovative capacity the individual develops – the more we can invent. When a human is expanding the brain's capacity, it can create new growth without additional costs. When every individual in entire organizations – expands their brain capacity, that really transforms the prospects!
NEUROLEADERSHIP is also crucial to HUMANIZE when WE FUTURIZE. That we all focus on the Greater Good for HUMANKIND in the 4 Industriel Revolution.
This presentation provides mental tools that ensure AGILE iNNOVATION – flexible adaptation in and of the individual in any market and Trend. Understand why the brain "helps us" – when we have a clear focus projected into the Future. NEURO LEADERSHIP sustains agile innovation.
Futurize yourself and your organisation. Riskwillingness is the prerequisite for innovation & futurization. Are you & your business - committed to improving the state of the world?
DECENCY LEADERSHIP is for everyone who DARES, YOU who are creators of a future for the Greater Good of Humankind. To ALL – striving for a future worth living. TO LEADERS, who really WILL lead into the future. There is growing focus and demand for social responsibility, fair trade, sustainability in the utmost sense. 
We MUST navigate a matrix shift – towards decency in our approach to shaping business and societies. So, even though DECENCY LEADERSHIP perhaps initially sounds naive and long-term – it's the recipe – that we will survive in the future. It's also DECENCY – most employees are looking for in a leader in the long run…..
HUMANIZE WHEN WE FUTURIZE. We live in a technological stampeed – to utilize the 4 Industriel Revolution to the advantage of HUMANS, we must strengthen the individual to choose and not loose.
HUMAN INNOVATION – LIKE NEVER BEFORE is for whole organizations, teams, any group of people who strive beyond STATUS QUO. This KEYNOTE is both a mental recipe for inventing towards the future we dream about. And the recipe for how we adapt to the rapidly changing era – without existential fear of what to expect. HUMAN AGILE INNOVATION.
This presentation mobilize and support organizational transformation processes where ALL participation is a prerequisite for success. Requested WORLDWide as this KEYNOTE mobilizes renewed hope, self-responsibility and continuous fighting spirit.
HUMAN INNOVATION! The prospects are that more will implement robots and AI-Artificial Intelligence – leading to a reduction in jobs that require repetitive tasks. Instead, the world will need more human creativity to develop AI technology. Humans are able to imagine visions of the future which we then bring to life through our agile innovation. 
GLOBAL MATRIX TRANSFORMATION
How can we innovate transforming future visions and as individuals take co-responsibility to innovate a Global live-able future?
How do we best challenge stiffling habits – expand agile human innovation and dispel the inappropriate consequences of materialism's repeated patterns – in an effort to innovate a paradigm shift – towards DECENCY LEADERSHIP & HUMAN INNOVATION. 
DECENCY LEADERSHIP is a simple solution to complex challenges.
We must ensure that the fourth industrial revolution unfolds with humanity at its core. Because Global Stability based on human justice – is the only strategy for long-term Global sustainable success. Innovate locally – transform globally.
Most want to dedicate themselves to a leader and an organization – with a mission that makes a difference in the world.
AGILE Innovation starts in OUR brain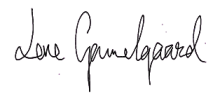 Book - THE EVEREST WAY - SIMPLE SOLUTIONs TO COMPLEX CHALLENGES
GREAT LEADERS DO NOT FOCUS ON INCREASED TURNOVER - THEY INSPIRE THROUGH WORTH WHILE MISSIONS

OUTSTANDING LEADERS IGNITE COLLABORATION THROUGH A COMPELLING VISION FOR THE FUTURE

TRANSFORMING LEADERS mobilize INDIVIDUALS - BY INVITING THEM TO CONTRIBUTE TO A MISSION