FUTURIST LENE GAMMELGAARD IS A GENUINE HUMANIST WHO INVENTS MENTAL STRATEGIES THAT INNOVATE PEOPLE TO STRIVE FOR LIVABLE FUTURES IN THE 4 INDUSTRIAL REVOLUTION​
THE EVEREST WAY - 1 of the worlds most innovative expansion methods
THE EVEREST WAY – SIMPLE METHODS TO COMPLEX TRANSFORMATIONS IN I4.0
FUTURIST LENE GAMMELGAARD
GLOBAL TOP MANAGEMENT SPEAKER
DO YOU WANT TO lead IN THE 4 Industrial revolution
I am committed to improving the state of the world - One Brain at the Time
Our world is changing – DO YOU? – FUTURIZE THE EVEREST WAY
A MISSION CLARIFY THE DIRECTION IN WHICH AN ORGANIZATION NEEDS TO DEVELOP​
Lene is a futurizing doer
a genuine humanist
who dedicates herself
to invent mental strategies
on how we can program our brains
to utilze our bio computer
as our GPS
to influence livable futures
So we as humans
innovate for the greater good
IN the 4 Industrial Revolution


WE MUST HUMANIZE OUR FUTURE
A futurist is a thinker who makes projections into the future after studying and analyzing the present mega trends. A futurist mobilizes individuals to reflect on how to innovate missions and waypoints to lead into the unknown without guarantees. A futurist mobilizes you to reflect upon the future you desire. A company must innovate audacious ambitious Missions for an envisioned future. Great leaders are futurists who inspire beliefs – the task is to innovate a desired future with risk willingness, as we cannot analyze our way into I4.0.
To futurize is to innovate a mission for the future and navigate towards it.  Companies that display enduring success identify bold stretched goals and adapt endlessly to a changing world. By futurizing, you identify a core mission to program yourself and the people you want to co-create with.
When you humanize, you innovate and improve the lives of people. Humanize is to focus on the human being in the 4IR. Humanize our future, innovate and influence to make I4.0 more suitable and liveable for people. The 4 Industrial Revolution must be an improvement for human living. Every invention must make life more liveable for humans. If not – what is it all the technology and digitazation worth?
PIONEERING FOR THE FUTURE?​
WHAT IS YOUR COMPANY'S BOLD STRETCHED MISSION?​
DO YOU STRIVE BEYOND STATUS QUO?
When I lecture, I learn. I always ask my clients and audiences, if they want life to be somewhat a copy of today in 5 years' time. NONE has ever had STATUS QUO as their clear goal. No companies – no individual.
ALL I have encountered – wants a more fulfilling life – someday……. It must be a universal human trait that we strive for livable futures. So what do we have to take responsibility for – to transform those desired scenarios into real life?
What does your envisioned Future look like?
Alignment of a company mission and the leaders and managements actions and integrity in pursuing the mission is the KEY to mobilize employee commitment and loyalty. Simple – yet only 20% succeeds according to Harvard Business Review.
Therefore, the FUTURE is all about people. Leaders and managers who lives a compelling worthwhile mission to assemble enough individuals to transform to win in I4.0
THE EVEREST WAY is the mental program – that ignites the idea of a desirable future goal. As well as the strategy to make it happen and how you as a leader must conduct yourself to develop people and goals that leads into the Future.
All in 1.
I guarantee that THE EVEREST WAY works in all of life's situations and predicaments. If you take responsibility to implement the mental steps.
THE 4 INDUSTRIAL REVOLUTION FORCE ALL OFF US TO ABANDON STATUS QUO
WE MUST RISK LAUNCHING INTO THE UNKNOWN ​
FUTURIZE THE EVEREST WAY – DELIVERS SIMPLE MENTAL PROGRAMS TO COMPLEX I4.0 TRANSFORMATIONS
FUTURIST Lene Gammelgaard became world famous in 1996 when she became the 35 woman to summit Mount Everest on May 10, 1996. Lene has since been unrelenting in her exploration and dissemination of the mental methods she developed  for the Everest quest. Lene innovates mental strategies to mobilize bold missions for companies to expand and vitalize leadership as well as employees to pursue what has never been accomplished before! THE EVEREST WAY installs self-driven renewed hope and continuous fighting spirit in individuals and organizations. FUTURIZE THE EVEREST WAY!
Lene has gained recognition and respect in international contexts, because of her groundbreaking mobilizing presentations and seminars on how we humans can program our brains for success through HUMAN INNOVATION in the 4 INDUSTRIAL REVOLUTION.
Lene's clients feel the mobilization of resources during the lecture itself and can take away the simple mental methods – anyone can implement every day to achieve what we strive for in life.
Lene's honest approach to how much it requires of us to create and maintain success in our turbulent contemporary era – is revitalizing and globally recognized.
THE FOUNDATION OF HUMAN INNOVATION - THE EVEREST WAY
THE FOURTH INDUSTRIAL REVOLUTIO(4IR) is our future matrix. We are revolutionized by the world's largest transformation since the first industrial revolution of the 18th century. The 4 Industrial Revolution is a fusion of technologies that expel the boundaries between physical, digital and biological. The 4 Industrial Revolution is characterized by technological breakthroughs in a number of areas, including robotics, artificial intelligence, nanotechnology, quantum computing, biotechnology, the internet of things, CLOUD COMPUTING AND COGNITIVE COMPUTING, 3D printing and autonomous vehicles. The 4 Industrial Revolution recalls almost all industries - in all countries of the globe. The speed and scope of these innovations dictate the reinvention of entire production systems, human resources, management and global policies. We as HUMANs are swamped with an overwhelming array of trends, mega shifts and connectivity - that requires the individual to THINK and take responsibility to create a viable future - not to loose ourselves in the I4.0.
SURVIVAL OF THE FUTURISTS
INTEGRITY, ETHIC AND PERSONAL MORAL IS DECISIVE FOR A LIVEABLE FUTURE IN THE 4 IR
WE MUST DEVELOP FUNDAMENTAL ETHICAL AND MORAL STANDPOINTS WE MUST DECIDE HOW WE WANT TO INNOVATE FOR THE FUTURE
My existential mission statement is to expand Human innovation & Decency Leadership for the greater good of Humankind.
Lene is a FUTURIST TOP MANAGEMENT THINKER – who innovate mental methods to bridge what is now and what will be. Lene mobilize visions with leaders, enterprises and organizations intent on reinventing themselves and redefining their fields to lead into the Future. Lene does not sugarcoat reality and promotes THE WILL TO SUFFER – as it often craves so much more than we want to believe – to accomplish what we pursue. Futurist Lene creates mental waypoints between what is now – and what will come. Lene is a practical philosophical human being – A FUTURIST, globally sought after to HUMANIZE.
FUTURIZE THE EVEREST WAY
The future is unknowable and happening fast. Risk willingness is the basis for innovation. Lene has hands on experience with both. As Lene shares – we must adapt to the future as it happens and take action without the security of a solid foundation. Digital transformation and artificial intelligence are only two among the multiple Mega Shifts that are transforming business and life. Waves of technology and social media are reshaping our reality, our cultures, and societies – how we perceive ourselves – who and what we are. To benefit and thrive with the swift shifts in I4.0 – we must innovate ourselves.
Humanity has never been as empowered and interconnected before in spite of disruptive inequality. At the same time our lives are impacted by instability – from alternating job prospects and multicultural unrest and terrorism, disillusionment with powerful iconic leader figures and institutions. 
WE MUST HUMANIZE OUR FUTURE
It is up to you to find out what gives life mEaning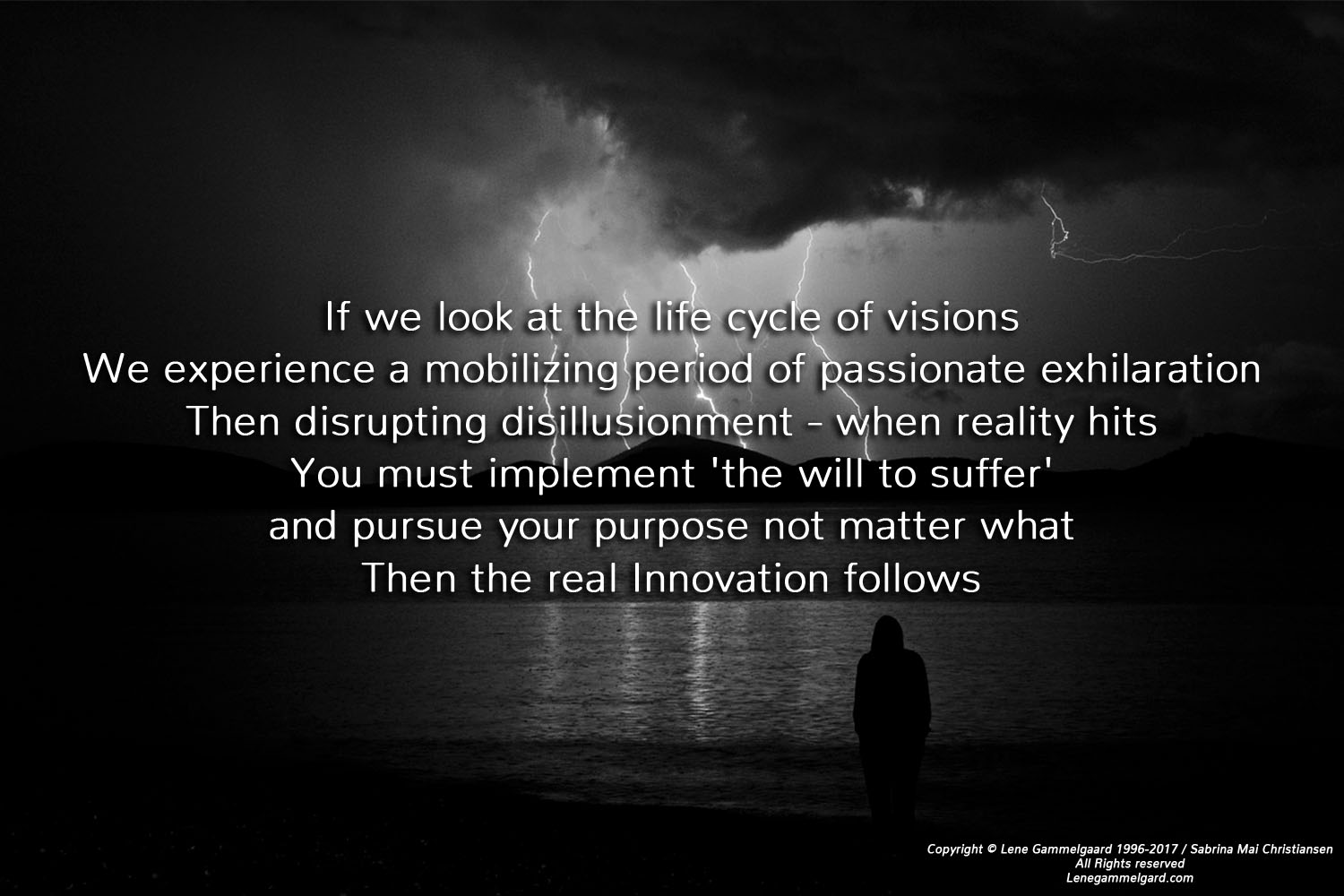 Risk tolerance is the basis for all innovation. Innovation starts with a thought – shaped in our minds – it has the potential to be translated into action – that impacts reality. Human Innovation.

To thrive in the unknown future universe – we must adapt – if we want it or not. We are forced to let go of some of the things that previously provided structure for our self-perception. And set a direction for what we want in our lives.
Therefore, I have invented Human Innovation – The Everest Way. Life and the future may be magnificent, just look at the WORLD ECONOMIC FORUMS VISION – COMMITTED TO IMPROVING THE STATE OF THE WORLD
In order to discover what we really want, we must look within and uncover what it takes to make our own short life meaningful. Because we, as humans in a highly privileged age, are allowed to pursue our own dreams and ambitions. We are not only put in the world to meet the politicians 'and desktop economists' statistical constraints about what box  we must be squeezed into – to contribute as much as possible to the tax revenue and questionable welfare state models.
We are entitled to find the meaning of our own lives
Often this meaning results in contributing to the greater community. And then we have innovative welfare – in the sense that people live well in the process life is, which of course requires self-sufficiency. But there are so many other ways to a desirable future, than the politically elaborate, materialistic, consumeristic methods we are living today.
Lene is willing to risk losing clients – because she dares say that extraordinary results often requires so much more than we are prepared to invest. Lene has experienced the hard way – that integrity combined with the will to suffer – to carry through means THE difference between life and death. Also in business contexts.
FUTURIZE & HUMANIZE - THE EVEREST WAY - FOR THE GREATER GOOD
Book - THE EVEREST WAY - SIMPLE SOLUTIONs TO COMPLEX CHALLENGES
GREAT LEADERS DO NOT FOCUS ON INCREASED TURNOVER - THEY INSPIRE THROUGH WORTH WHILE MISSIONS

OUTSTANDING LEADERS IGNITE COLLABORATION THROUGH A COMPELLING VISION FOR THE FUTURE

TRANSFORMING LEADERS mobilize INDIVIDUALS - BY INVITING THEM TO CONTRIBUTE TO A MISSION

THE 4 INDUSTRIAL REVOLUTION
Industry 4.0 (I4.0) is one name for the current trend of automation and data exchange in manufacturing technologies. It includes cyber-physical systems & the Internet of things.
THE Fourth Industrial Revolution (4IR) is the fourth major industrial era since the initial Industrial Revolution of the 18th century. It is characterized by a fusion of technologies that is blurring the lines between the physical, digital, and biological spheres. It is marked by emerging technology breakthroughs in a number of fields, including robotics, artificial intelligence, nanotechnology, quantum computing, biotechnology, The Internet of Things,
CLOUD COMPUTING AND COGNITIVE COMPUTING,

3D printing and autonomous vehicles. 4IR is disrupting almost every industry in every country. And the breadth and depth of these changes herald the transformation of entire systems of production, management of people, and governance.
AI=Artificial Intelligence. AI still cannot invent what does not already exist. HUMANS CAN. AI can perform repetitive tasks at an extremely efficient rate. So in the age of AI human creativity will have more significance than ever before.
The human mind is creative and imaginative. Humans are able to imagine visions of the future which we then bring to life. As Walt Disney said, "if you can dream it, you can do it." HUMAN INNOVATION – FUTURIZE THE EVEREST WAY
The key to our future is that more and more industries will implement the upsides of AI, which may lead to a reduced workforce in the areas of the workforce that require repetitive tasks. Instead, the world will need more creativity in all endeavors, even in regards to implementing and leveraging AI technology creatively.
WE MUST HUMANIZE OUR FUTURE
DECENCY LEADERSHIP AND HUMAN INNOVATION FOR THE GREATER GOOD OF HUMANKIND
DECENCY LEADERSHIP AND HUMAN INNOVATION FOR THE GREATER GOOD OF HUMANKIND
In this era of I4.0 - human creativity and innovation will be more important than ever before.
The human mind is innovative. People are able to imagine future visions that we bring to life.
As Walt Disney said, "if you can imagine it, you can do it." FUTURIZE THE EVEREST WAY
THE EVEREST WAY – SIMPLE METHODS TO COMPLEX TRANSFORMATIONS IN I4.0
THE EVEREST WAY is one of the world's most efficient change methods. THE EVEREST WAY is for anyone who wants MORE. Or is forced to adapt by contemporary upheavals. THE EVEREST WAY gives you a project and process model, as well as mental strategies that have been tested on extreme and varied goals. No theory – HANDS-ON results. Clear focus – the will to suffer and endurance – are just some of the messages that give insights the audience never forget.
THE EVEREST WAY creates extraordinary measurable results. In individual people and throughout – Global companies. THE EVEREST WAY gives responsibility for the future to the people who will live with the consequences. And it revitalizes – and installs collaboration – also across cultures and borders.
NEURO LEADERS SHIP is targeted to the entire organization from bottom to top management and boards. The greater the innovative capacity the individual develops – the more we can invent. When a human is expanding the brain's capacity, it can create new growth without additional costs. When every individual in entire organizations – expands their brain capacity, that really transforms the prospects!
NEUROLEADERSHIP is also crucial to HUMANIZE when WE FUTURIZE. That we all focus on the Greater Good for HUMANKIND in the 4 Industriel Revolution.
This presentation provides mental tools that ensure expansion in and of the individual in any market and Trend. Understand why the brain "helps us" – when we have a clear focus projected into the Future. NEURO LEADERSHIP is an ingenious proposition for launching innovative initiatives. As well as transform outward disruptions to future success.
Futurize yourself and your organisation. Riskwillingness is the prerequisite for innovation & futurization. Are you & your business – committed to improving the state of the world?
DECENCY LEADERSHIP is for everyone who dares, YOU who are creators of a common future for the Greater Good of Humanity. To ALL – striving for a future worth living. TO LEADERS, who really WILL look into the future. Maybe naive ??? But there is growing focus and demand for social responsibility, fair trade, sustainability in the utmost sense. We navigate in a matrix shift – from hyper consumerism to – I claim and the blue eminence in Davos – towards decency in our approach to shaping business and society. So, even though DECENCY LEADERSHIP perhaps initially sounds naive and long-term – it's the recipe – that we will survive in the future. Funny, it's also DECENCY – most employees are looking for in a leader …..
HUMANIZE WHEN WE FUTURIZE. We live in a technological stampeed – to utilize the 4 Industriel Revolution to the advantage of HUMANS, we must strengthen the individual to choose and not loose.
HUMAN INNOVATION – LIKE NEVER BEFORE is for whole organizations, teams, any group of people who strive beyond STATUS QUO. This KEYNOTE is both a mental recipe for inventing towards the future we dream about. And the recipe for how we adapt to the rapidly changing era – without existential fear of what to expect.
This presentation is aimed at mobilizing and supporting organizational transformation processes where ALL participation is a prerequisite for success.
Requested WORLDWide as this KEYNOTE mobilizes renewed hope, self-responsibility and continuous fighting spirit.
Futurize yourself and your organisation
FUTURIZE - THE EVEREST WAY - SIMPLE SOLUTIONs TO COMPLEX CHALLENGES
READY TO INNOVAT THE FUTURE? Book YOUR 45 – 60 min. KEYNOTE TODAY – INTROKAMPAGNE 5.000 – 10.000 EURO