THE EVEREST WAY - 1 of the worlds most effective LEADERSHIP PROGRAMS
Something extraordinary happened in my brain when I said YES to climb Everest - HUMAN INNOVATION
"When I had said yes to Scott Fischer's questions – Do you want to climb Mount Everest with me? – the first thing I thought was: I can not! "
And then there was a quantum leap explosion in my mind – an unknown proces mobilized resources I did not think I had. I was simply pressured to innovate EVERYTHING – that was needed to make the VISION come true. Starting with I had to visualize – I would be able to summit Everest. A tremendous quest – I did not have evidence for I would be capable off. Nothing could stop me from reaching the top of the world's highest mountain. I took unorthodox methods in use – and developed my mental programming – To the Summit and Safe Return – that supported my climb and maybe helped me to survive where others died. What was mobilized in me – has been groundbreaking and a sustained enrichment. Therefore, I have dedicated my life to developing and researching HUMAN INNOVATION. I have spent 20 years developing THE EVEREST WAY – mental programming – that works in all life's contexts.
YOUR BRAIN IS YOUR GPS FOR THE 4 Industrial Revolution
Do you know that you can programm you brain?
People are mobilized through visions
THE HUMAN BRAIN IS OUR GPS TO THE FUTURE WE WANT
Futurize with NeuroLeadership to become leading in your industry
THE EVEREST WAY - 1 of the world most effective innovation programs
FUTURIZE – THE EVEREST WAY – I can help you expand for the future of the 4 Industrial Revolution. I invented and tested 3 mental strategies that explode all limitations when I embarked on my quest to summit Mount Everest May 10, 1996. I have since developed – THE EVEREST WAY – mental programming that produces results in all life's contexts. Globally sought after as 1 of the most Effective Leadership Innovation Methods. 
THE EVEREST WAY works! On individual levels, as management method, Leadership program, employee development and organization transformation.
CREATE THE FUTURE – INNOVATE LEADERS – INNOVATE LEADERS – CREATE THE FUTURE – FUTURIZE & HUMANIZE THE EVEREST WAY
THE FUTURE OF I4.0 IS AS MUCH ABOUT PEOPLE AS ABOUT TECHNOLOGY
NEUROLEADERSHIP-THE EVEREST WAY - 1 of the World's
Most EFFECTIVE Behavior Change methods
FUTURIZE THE EVEREST WAY – A leader must create a self-governing organization through a mobilizing mission statement. Learn cutting-edge research-based mental tools to help you lead effectively. Human Innovation begins with unorthodox – innovative thoughts. Mental Strategies that mobilize leaders, organizations and individuals to be co-creators of the future. Our complex reality requires that we renew and transform leadership. Acquire understanding of neuroscience as it relates to leading change at any scale.  
Do you strive beyond Status Quo? 
Do you strive for a future worth living?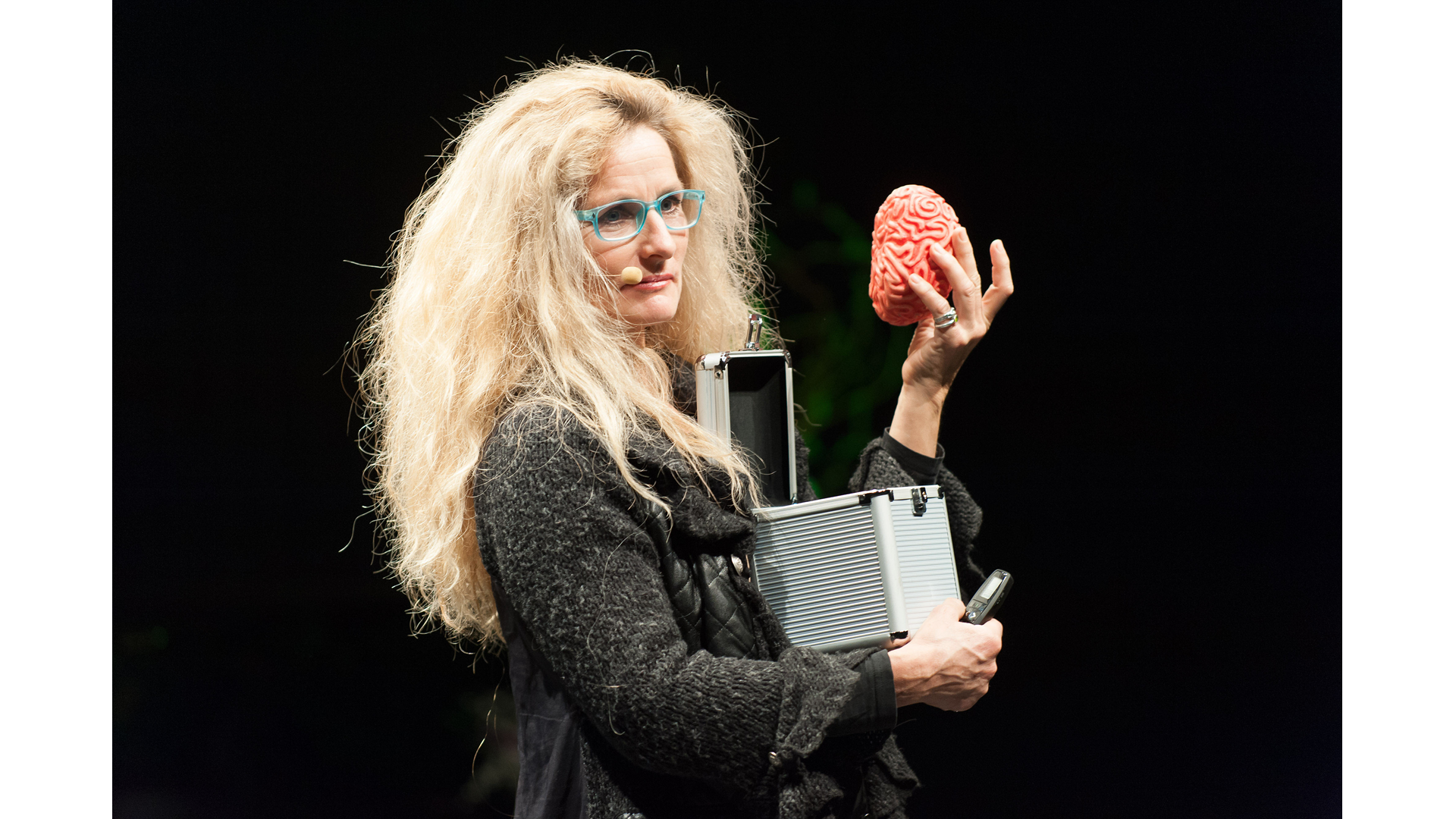 We can transform the future – one brain at THE time!
YOUR BRAIN IS YOUR GPS TO YOUR FUTURE
Do you know that we can program our brains so it will be easier to achieve what we dream of in the future?
One of the most important researchbased development insights in our decade is
NEUROLEADERSHIP
Mental Programming is simple yet demanding:
YOU MUST KNOW WHAT YOU WANT – PEOPLE ARE MOBILIZED THROUGH MISSIONS
YOU SHOULD INNOVATE A SIMPLE SLOGAN – YOU CAN REPEAT OVER AND OVER AGAIN – WHENEVER YOUR HABITUAL WAY OF THINKING AND ACTING THREATENS TO DISRUPT YOUR NOVEL OBJECTIVES
YOU SHOULD FOLLOW YOUR OBJECTIVE BY DISCIPLINING NEW THINKING AND ACTIONS
YOU MUST TAKE BREAKS – THe brain works through fire (new actions) and rewire (pause)
YOU MUST KEEP GOING AND DO WHATEVER IT TAKES – AGAIN AND AGAIN AND AGAIN
YOU MUST ADAPT AND INNOVATE YOURSELF – THROUGH FOCUSING ON WHAT YOU WANT IN THE LONGER RUN
YOU HAVE NOT ACOMPLISHED WHAT YOU SET OUT TO DO – UNTIL YOU HAVE REALIZED IT
NO MATTER WHAT IT TAKES, NO MATTER HOW LONG IT TAKES, NO MATTER HOW MUCH YOU MUST ADAPT AND LET GO OF PRECONCEIVED PLANS AND CONCEPTS
Mobilization THE EVEREST WAY - starts while I'm talking
Neuroscience supports that you innovate resources – by disciplining how you think and act.
NeuroLeadership is infinitely multiplicable and costs nothing.
we can influence the future - one brain at the time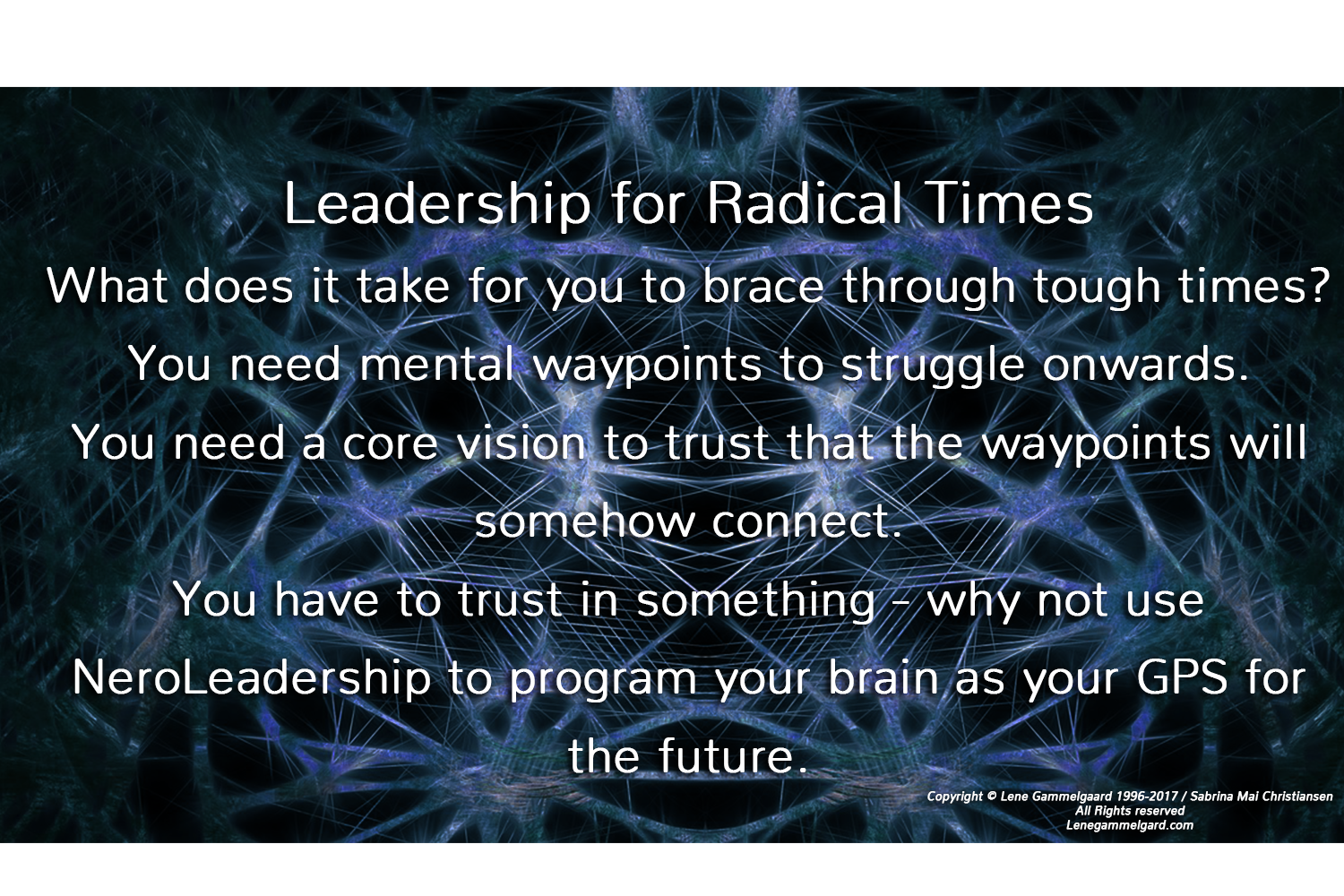 You will benefit from your investment immediately - because my presentations mobilize new ideas
THE EVEREST WAY mental programming is 3 simple mental
strategies that mobilize individuals, management and organizations that will be co-creators of the future.
    WHAT IS YOUR MISSION
    WILL TO SUFFER
    THE WILL TO WILLPOWER 
We have achieved what we strive for – when we have achieved it. No matter how long it takes, no matter what it takes, no matter how much we need to innovate and adapt ourselves – to maintain momentum – until we see the results.
NEUROLEADERSHIP - THE EVEREST WAY - GIVES YOU MENTAL PROGRAMS THAT MOBILIZE RESULTS
Book - NEUROLEADERSHIP - MENTAL PROGRAMMING FOR I4.0
GREAT LEADERS DO NOT FOCUS ON INCREASED TURNOVER - THEY INSPIRE THROUGH WORTH WHILE MISSIONS

OUTSTANDING LEADERS IGNITE COLLABORATION THROUGH A COMPELLING VISION FOR THE FUTURE

TRANSFORMING LEADERS mobilize INDIVIDUALS - BY INVITING THEM TO CONTRIBUTE TO A MISSION

NeuroLeadership is infinitely multiplicable and costs nothing
HOW CAN we program our brain to INNOVATE?
NeuroProgramming – innovate humans through mental techniques that sustains your long-term goals
NeuroLeadership – Just do it!
NEURO LEADERSHIP MUST MOBILIZE long term HUMAN INNOVATION - through FOCUS on a MISSON - THAT GIVES MEANING to people
NEURO LADERSHIP -
Innovate a compelling mission. A future projection that lends meaning to all in the organization.
NEURO PROGRAMMING – Share the MISSION – Human Innovation starts with innovative thoughts.  
FOCUS on your MISSION STATEMENT – Repeat your MISSION STATEMENT. Program your brain and your organization for long term expansion – develop a simple repetitive SLOGAN. Objectives that are repeated stimulate the formation of new brain synapses that strengthens capacities to expand in novel directions.
Your return of investment:
FUTURIZE! Are your brain and your organization programmed for long-term success in the 4 IR?
Project- and process tool – that will sustain you for life!
Neuroplasticity. How does the brain work? Learn cutting-edge research-based tools to help you lead effectively.
Clarify your Mission statement.
Ignite NeuroLeadership.
Develop a simple mantra to sustain collaboration across sectors.
Keep recommitting to the clear focus to pursue the ultimate outcome.
Expansion through NeuroLeadership costs nothing!
Just do it & Keep doing it - till it works!
your return of investment is my 1 concern
THE EVEREST WAY – SIMPLE METHODS TO COMPLEX TRANSFORMATIONS IN I4.0
THE EVEREST WAY is one of the world's most efficient change methods. THE EVEREST WAY is for anyone who wants MORE. Or is forced to adapt by contemporary upheavals. THE EVEREST WAY gives you a project and process model, as well as mental strategies that have been tested on extreme and varied goals. No theory – HANDS-ON results. Clear focus – the will to suffer and endurance – are just some of the messages that give insights the audience never forget.
THE EVEREST WAY creates extraordinary measurable results. In individual people and throughout – Global companies. THE EVEREST WAY gives responsibility for the future to the people who will live with the consequences. And it revitalizes – and installs collaboration – also across cultures and borders.
NEURO LEADERS SHIP is targeted to the entire organization from bottom to top management and boards. The greater the innovative capacity the individual develops – the more we can invent. When a human is expanding the brain's capacity, it can create new growth without additional costs. When every individual in entire organizations – expands their brain capacity, that really transforms the prospects!
NEUROLEADERSHIP is also crucial to HUMANIZE when WE FUTURIZE. That we all focus on the Greater Good for HUMANKIND in the 4 Industriel Revolution.
This presentation provides mental tools that ensure expansion in and of the individual in any market and Trend. Understand why the brain "helps us" – when we have a clear focus projected into the Future. NEURO LEADERSHIP is an ingenious proposition for launching innovative initiatives. As well as transform outward disruptions to future success.
Futurize yourself and your organisation. Riskwillingness is the prerequisite for innovation & futurization. Are you & your business – committed to improving the state of the world?
DECENCY LEADERSHIP is for everyone who dares, YOU who are creators of a common future for the Greater Good of Humanity. To ALL – striving for a future worth living. TO LEADERS, who really WILL look into the future. Maybe naive ??? But there is growing focus and demand for social responsibility, fair trade, sustainability in the utmost sense. We navigate in a matrix shift – from hyper consumerism to – I claim and the blue eminence in Davos – towards decency in our approach to shaping business and society. So, even though DECENCY LEADERSHIP perhaps initially sounds naive and long-term – it's the recipe – that we will survive in the future. Funny, it's also DECENCY – most employees are looking for in a leader …..
HUMANIZE WHEN WE FUTURIZE. We live in a technological stampeed – to utilize the 4 Industriel Revolution to the advantage of HUMANS, we must strengthen the individual to choose and not loose.
HUMAN INNOVATION – LIKE NEVER BEFORE is for whole organizations, teams, any group of people who strive beyond STATUS QUO. This KEYNOTE is both a mental recipe for inventing towards the future we dream about. And the recipe for how we adapt to the rapidly changing era – without existential fear of what to expect.
This presentation is aimed at mobilizing and supporting organizational transformation processes where ALL participation is a prerequisite for success.
Requested WORLDWide as this KEYNOTE mobilizes renewed hope, self-responsibility and continuous fighting spirit.
Futurize yourself and your organisation
BOOK NEUROLEADERSHIP
STRIVE TO BECOME THE LEADING COMPANY IN YOUR INDUSTRY
Ready to lead with innovation? Book a 45 – 60 min. Speak now – price 5.000 – 10.000 EURO
For longer courses and work-shops, we find a price that secures your worth while return of investment