INTERNATIONAL CLIENTS PROCLAIM LENE AS 1 OF THE TOP 10 MOTIVATIONAL SPEAKERS IN THE WORLD
FUTURIZE THE EVEREST WAY - TO INNOVATE A DESIREABLE LIFE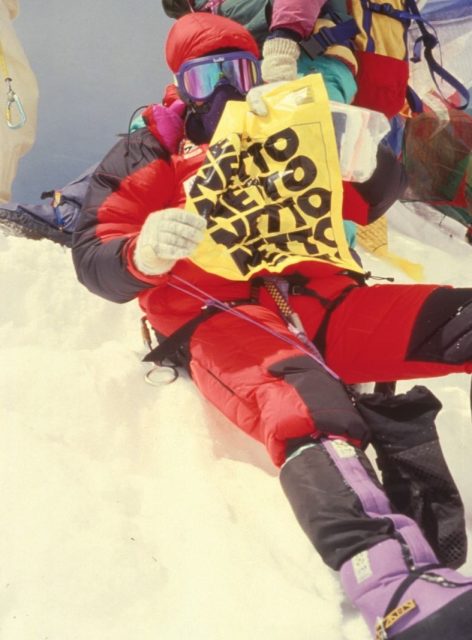 INTERNATIONAL CLIENTS PROCLAIM LENE AS 1 OF THE TOP 10 MOTIVATIONAL SPEAKERS IN THE WORLD.
THE EVEREST WAY offers project- and process programs – that mobilizes extraordinary results – in professional contexts. Lene has invented THE EVEREST WAY – simple mental methods, that explodes all limitations and mobilizes idealistic missions. FUTURIZE THE EVEREST WAY develop people and businesses – that lead into the 4th industrial revolution.
FUTURIST Lene Gammelgaard became world famous, when she as the first Scandinavian woman summited Mount Everest on May 10th, 1996. 
Lene is a TOP MOTIVATIONAL SPEAKER – a Top Thinker for Top Managers – for leaders of today – who wants to make a difference tomorrow. Lene has more than 20 years of experience with change processes for organizations.
FUTURIZE YOURSELF AND YOUR ORGANIZATION
Lene offers Business Speaks with easily implementable methods – strategic solutions to how you can create progress in the constant revolution of technological inventions and market trends in our complex time. Lene is a mission and endurance specialist – who delivers systematic mental strategies – for you and your organization to bypass outer as well as inner obstacles – to accomplish I4.0 missions in the future.
Lene has collaborated with leaders, senior executives, board members, managers and teams in more than 15 countries – each time on different premises. Lene has in every case managed to create innovative visions, increased potential and mobilized responsibility in the individuals. Lene works with mental methods, which are beneficial to drive objectives through to concrete results. To keep the complex simple – Lene calls it – FUTURIZE THE EVEREST WAY.
SIGNATURE KEYNOTES:
KEYNOTE 1
FUTURIZE THE EVEREST WAY – Innovate the future through a mission statement – to achieve something that has never been accomplished before. People are mobilized by a mission that makes sense. What is your mission statement that will innovate progression in the 4th Industrial Revolution? Gallup has globally asked 27 million employees and has arrived at the fact – that only 1 in 10 managers are able to motivate employees to lead into the future. THE EVEREST WAY gives you 3 simple mental methods to explode all constraints, innovate people and create forward-looking projections of how your organizational future should be.
1 OUT OF 10 LEADERS ARE EFFECTIVE – INNOVATE I4.0 LEADERSHIP – THE EVEREST WAY
KEYNOTE 2
HUMAN INNOVATION – GLOBAL SUSTAINABLE EXPANSION CAN'T EXCELL IN I4.0 UNTILL PEOPLE DO
The future of the 4th Industrial Revolution is as much about the development of human potential, as about innovating High-tech. The speed of the I4.0 transformations requires leaders who are specialists in the development of talented, self-guided employees, because it is people who lead the technological evolution. HUMAN INNOVATION is a transformation process that mobilizes the human resources your business needs to become leading in your field – now and in the future.
HUMAN INNOVATION – LEAD TO UNLEASH HUMAN CAPITAL
KEYNOTE 3
NEUROLEADERSHIP– The human brain is our GPS for the future we strive for. We can program our brain with future visions and thus achieve success in the 4th Industrial Revolution. NeuroLeadership disciplines the human brain to promote focus on company goals, innovative leadership, learning, organizational performance and high performance culture. Research shows that only 20% succeeds in profound transformations because unconscious old habits sabotage progress. NeuroLeadership is the neuro-programming tool – to implement pioneering missions and future supportive habits that will mobilize new actions in I4.0.
ORGANIZATIONS THAT DISPLAY ENDURING SUCCESS HAVE AN EXISTENTIAL MISSION AS MENTAL FIXPOINT – FUTURIZE THE EVEREST WAY
KEYNOTE 4
DECENCY LEADERSHIP– People are mobilized by being invited to collaborate to contribute to a compelling mission for the future they strive for – driven by a basic ideology that deserves their respect. What is your core ideology – that mobilizes progress in people in the 4th Industrial Revolution? Pioneering results are achieved – only – when you as a leader – and your organization can create a mass movement in the talented employees needed to create measurable results. Decency Leadership is perhaps the only universal characteristic – that humans across cultures, backgrounds and class differences admire and are attracted to. Decency Leadership Keynotes mobilizes processes – so that you in 5 minutes will be able to communicate your basic ideology – to ignite respect and enthusiasm in the individuals you need to mobilize, to create results – now and onwards.
DECENCY LEADERSHIP IS LONG-TERM – in a rapidly changing world!
We must take responsibility individually and locally so we can transform globally