INNOVATE A BUSINESS MISSION THAT CONTRIBUTE TO SUSTAINABLE RESULTS
Gallup has studied performance at more then 2.5 million work units and measured the engagement of 27 million employees for the past two decades. No matter the industry, size, or geography, GALLUP find executives struggling to unlock the PSYCHOLOGY to employee engagemente and performance and how to unite individualists into collaborating focused task-forces
STATUS QUO:

Gallup uncovered that JUST 1 in 10 leaders aRE motivaTING their TEAMS SO EMPLOYEES ARE ENGAGED AND COMMITTED

We are missing tremendous global opportunites through demotivated workforces
Gallup uncovers associations between employee engagement and vital performance indicators.
When a company raises employee engagement – across business areas, results improve.
The employee of tomorrow will demand an evolving work environment as artificial intelligence and robots take on repetitive tasks.
People thrive when their resources contribute optimally.
the crucial question to ask is
Are YOU FUNDAMENTALLY EXCITED AND PASSIONATE ABOUT YOUR future mission - GENUINELY COMMITTED TO it ?

if you are - OTHERS WILL BE TOO!
MISSION INNOVATION TEST: ALL INVOLVED MUST BE ABLE TO COMMUNICATE THE COMPANY MISSION IN LESS THAN 2 MINUTES AND IGNITE A REACTION THAT SIGNIFIES AMAZEMENT AND INTEREST – IF NOT THE MINDS OF THE INDIVIDUALS YOU NEED TO CREATE THE RESULTS ARE NOT MOBILIZED AND EFFORTS TO LEAD INTO I4.0 WILL FAIL
HUMAN INNOVATION – is for entire organizations, leaders, teams, any group of people striving to exceed STATUS-QUO through innovations of employee engagement with meaningful missions.
HUMAN INNOVATION provides a mental method to realize the future we strive to achieve. As well as the recipe for how to adapt to the rapid changes that are now taking place – without an existential fear of what lies ahead.
The purpose of this presentation is to mobilize organizational transformation processes – via people with missions. And achieving goals with the participation of ALL – which is a prerequisite for success.

do you have SHARP mental FOCUS AS YOUR GPs
to sustain you
AND YOUR organization IN I4.0?

You get THE EVEREST WAY project and process methods that mobilize missions – that innovate human resources.
You get management strategies that ensure that talented people take ownership and, over time, continuously invest resources in the business.
You gain access to the success factor – the willingness to endure. Mental stamina to overcome all setbacks and obstacles – until you achieve what you intend to do.
your return of investment IN THE EVEREST WAY BUSINESS TALKS is my 1 concern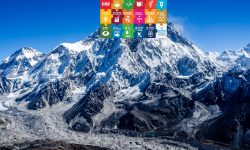 THE EVEREST WAY is one of the world's most efficient change methods. THE EVEREST WAY is for anyone who wants MORE. Or is forced to adapt by contemporary upheavals. THE EVEREST WAY gives you a project and process model, as well as mental strategies that have been tested on extreme and varied goals. No theory – HANDS-ON results. Clear focus – the will to suffer and endurance – are just some of the messages that give insights the audience never forget.
THE EVEREST WAY mobilize measurable results. In individuals and throughout – Global companies. THE EVEREST WAY gives responsibility for the future to the people who will live with the consequences. FUTURIZE THE EVEREST WAY revitalizes – and mobilize co-innovation and collaboration – also across cultures and borders.
NEURO LEADERS SHIP is for the entire organization from bottom to top management and boards. The greater the innovative capacity the individual develops – the more we can invent. When a human is expanding the brain's capacity, it can create new growth without additional costs. When every individual in entire organizations – expands their brain capacity, that really transforms the prospects!
NEUROLEADERSHIP is also crucial to HUMANIZE when WE FUTURIZE. That we focus on the Greater Good for HUMANKIND in the 4 Industriel Revolution.
This presentation provides mental tools that ensure AGILE INNOVATION – flexible adaptation in and of the individual in any market and Trend. Understanding of how the brain "helps us" – when we have a clear focus projected into the Future. NEURO LEADERSHIP sustains agile innovation.
Futurize yourself and your organisation. Riskwillingness is the prerequisite for innovation. Are you & your business - committed to EXPANSION THROUGH SUSTAINABLE INNOVATION IN I4.0?
DECENCY LEADERSHIP is for everyone who DARES, YOU who are creators of a future for the Greater Good of Humankind. To ALL – striving for a future worth living. TO LEADERS, who really WILL lead into the future. There is growing focus and demand for social responsibility, fair trade, sustainability in the utmost sense. 
We MUST navigate a matrix shift – towards decency in our approach to shaping business and societies. So, even though DECENCY LEADERSHIP perhaps initially sounds naive and long-term – it's the recipe – that we will survive in the future. It's also DECENCY – most employees are looking for in a leader in the long run…..
HUMANIZE WHEN WE FUTURIZE. We live in a technological stampeed. Where we tend to ovrlook that humans are in control of what, why and with what purpose. To utilize the 4 Industriel Revolution to the advantage of HUMANS, we must strengthen the individual to choose and not lose.
HUMAN INNOVATION – is for whole organizations, teams, any group of people who strive beyond STATUS QUO. This KEYNOTE is both a mental method for inventing the future we want to live in. And the recipe for how we adapt to the rapidly changing era – without existential fear of what to expect. HUMAN AGILE INNOVATION.
This presentation mobilize and support organizational transformation processes where commitment and participation from ALL is the prerequisite for success. Requested around the Globe as this BUSINESS TALK mobilizes renewed hope, self-responsibility and continuous fighting spirit.
Book - HUMAN INNOVATION - EXPAND HUMAN CAPITAL FOR I4.0
GREAT LEADERS DO NOT FOCUS ON INCREASED TURNOVER - THEY INSPIRE THROUGH WORTH WHILE MISSIONS

OUTSTANDING COMPANIES IGNITE COLLABORATION THROUGH A COMPELLING VISION FOR THE FUTURE

TRANSFORMING MANAGEMENT MOBILIZE INDIVIDUALS - BY INVITING THEM TO CONTRIBUTE TO A MISSION

WE CAN INNOVATE A DESIRABLE FUTURE - ONE BRAIN AT THE TIME - WE MUST INNOVATE OUR BELIEFS IN WHAT IS POSSIBLE
THEN WE MUST RISK - VENTURING INTO THE UNKNOWN - TO ACHIEVE WHATS NEVER BEEN ACCOMPLISHED BEFORE
Copyright© 2020 LENE GAMMELGAARD – HUMAN INNOVATION