EXTREME EVEREST EXPERIENCES IGNITED MY PASSION to invent HUMAN INNOVATION
In Lene's fascinating and dramatic story of one of the most iconic seasons on Mount Everest – 1996 – Lene mobilize her listeners to take their own lives seriously enough – to realize unresolved dreams – due to Lene's ability to strike a core and to revitalize – the innermost in fellow human beings 
LIFE HAS NO MEANING UNTIL YOU INNOVATE IT
LENE HAS TRANSFORMED EXTREME EXPERIENCES FROM EVEREST 1996 INTO 1 OF THE MOST EFFICIENT HUMAN INNOVATION METHODS IN THE WORLD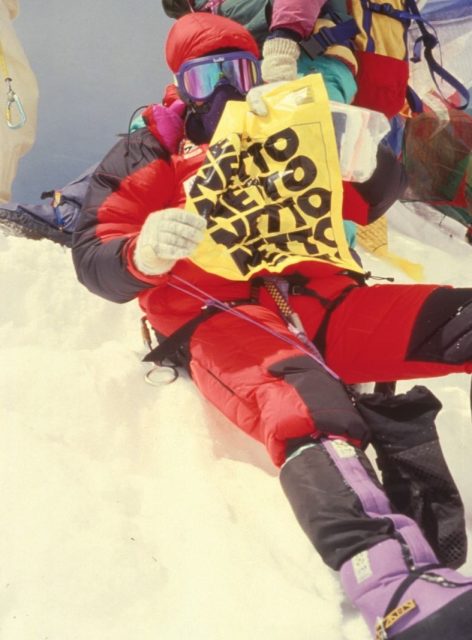 Lene Gammelgaard EVEREST SUMMIT 1996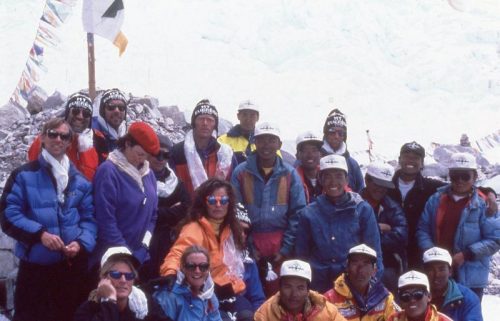 MOUNT EVEREST TRANSFORMED - ME AND MY LIFE
I pass on my Everest experiences – and my THE EVEREST WAY methods – because I wish for all – to discover – and realize their  dreams.
I experimented with brain programming in connection with my mental preparation to climb the world's highest mountain. I reached the top of Everest and survived a storm – that cost some of my mountaineering comrades their life.
I have spent 20 years developing THE EVEREST WAY – mental programming – a simple method to create the results you dream about. THE EVEREST WAY works for all – in all contexts of existence.
Receive the mental formula to realize your Everest. Get inspired and learn to risk and mobilize your own liberating vision of the life you strive for.
Success with life – is a matter of passion, choice, risk willingness, willpower, mental preparation, and absolute determination – persistence until you realize – what you decide is important.
HUMANS NEED MEANING IN LIFE TO KEEP GOING
BOOK EVEREST to be revitalized and learn to risk and mobilize your own vision of the life you strive for – from the first Scandinavian woman who summitted and survived Mount Everest May 10, 1996. You must know what you truly want – You must implement THE WILL TO SUFFER – perseverance and recommitment – is crucial and necessary for ALL who strive for a future worth living. Become mentally prepared to realize your own Everest
LENE's motivational speaks
your return of investment is my 1 concern
THE EVEREST WAY is one of the world's most efficient change methods. THE EVEREST WAY is for anyone who wants MORE. Or is forced to adapt by contemporary upheavals. THE EVEREST WAY gives you a project and process model, as well as mental strategies that have been tested on extreme and varied goals. No theory – HANDS-ON results. Clear focus – the will to suffer and endurance – are just some of the messages that give insights the audience never forget.
THE EVEREST WAY creates extraordinary measurable results. In individual people and throughout – Global companies. THE EVEREST WAY gives responsibility for the future to the people who will live with the consequences. And it revitalizes – and installs collaboration – also across cultures and borders.
NEURO LEADERS SHIP is targeted to the entire organization from bottom to top management and boards. The greater the innovative capacity the individual develops – the more we can invent. When a human is expanding the brain's capacity, it can create new growth without additional costs. When every individual in entire organizations – expands their brain capacity, that really transforms the prospects!
NEUROLEADERSHIP is also crucial to HUMANIZE when WE FUTURIZE. That we all focus on the Greater Good for HUMANKIND in the 4 Industriel Revolution.
This presentation provides mental tools that ensure expansion in and of the individual in any market and Trend. Understand why the brain "helps us" – when we have a clear focus projected into the Future. NEURO LEADERSHIP is an ingenious proposition for launching innovative initiatives. As well as transform outward disruptions to future success.
Futurize yourself and your organisation. Riskwillingness is the prerequisite for innovation & futurization. Are you & your business – committed to improving the state of the world?
DECENCY LEADERSHIP is for everyone who dares, YOU who are creators of a common future for the Greater Good of Humanity. To ALL – striving for a future worth living. TO LEADERS, who really WILL look into the future. Maybe naive ??? But there is growing focus and demand for social responsibility, fair trade, sustainability in the utmost sense. We navigate in a matrix shift – from hyper consumerism to – I claim and the blue eminence in Davos – towards decency in our approach to shaping business and society. So, even though DECENCY LEADERSHIP perhaps initially sounds naive and long-term – it's the recipe – that we will survive in the future. Funny, it's also DECENCY – most employees are looking for in a leader …..
HUMANIZE WHEN WE FUTURIZE. We live in a technological stampeed – to utilize the 4 Industriel Revolution to the advantage of HUMANS, we must strengthen the individual to choose not to lose.
HUMAN INNOVATION – LIKE NEVER BEFORE is for whole organizations, teams, any group of people who strive beyond STATUS QUO. This KEYNOTE is both a mental recipe for inventing towards the future we dream about. And the recipe for how we adapt to the rapidly changing era – without existential fear of what to expect.
This presentation is aimed at mobilizing and supporting organizational transformation processes where ALL participation is a prerequisite for success.
Requested WORLDWide as this KEYNOTE mobilizes renewed hope, self-responsibility and continuous fighting spirit.
Futurize yourself and your organisation
This spectacular booklet consists of 10 profound texts for reflection and rejuvenation. Accompanied by stunning photo's with wise quotes to excavate and reawaken purpose in – and Zest for Life. The wisdom of this booklet will sustain you through radical and tough times – as leader for others and for you – leader of your own destiny. An outstanding give away at any venue. Use it on an everyday basis to mobilizing insight that re-inspire even in the darkest of times. Success is a matter of passion, decision, risk willingness, willpower mental preparation, execution and the will to suffer endurance and recommitment. Lene vividly shares her simple steps to program your brain to ignite focus and persevere until you have achieved your unique goals. 
 Do you dare to pursue your innermost dreams? To the summit and safe return gives the reader a thrilling insigh into high altitude mountaineering as well as a strategic tool kit to living and a sobering book, packed with hands-on experiences you can apply today to achieve the life you dream about. To the Summit and Safe Return is revised version of best selling Climbing High. A humble account of human experience around May 10th Get to know Scott Fischer an Anatoli Boukreev and discover how to risk and mobilize your own grand vision form the first Scandinavian woman to scale and survive Mount Everest on May 10th 1996.
Book - EVEREST 1996 - INNOVATe your life THE EVEREST WAY
THE EVEREST WAY IS A KICK-OFF THAT EXPLODES YOUR LIMITATIONS
Be inspired and learn to risk and mobilize your own vision of the life you strive for
WE CAN INNOVATE A DESIRABLE FUTURE - ONE BRAIN AT THE TIME - WE MUST INNOVATE OUR BELIEFS IN WHAT IS POSSIBLE
THEN WE MUST RISK - VENTURING INTO THE UNKNOWN - TO ACHIEVE WHATS NEVER BEEN ACCOMPLISHED BEFORE
Copyright© 2018 LENE GAMMELGAARD – HUMAN INNOVATION