THE BRAIN IS OUR GPS TO THE FUTURE WE STRIVE FOR
What if I told you there is something that you and your coworkers can do right now that would have an immediate, positive impact on your business prospects – including the overall collaborating culture in your organization?
And what if I told you that anyone can do IT and IT costs nothing
And what if I told you that I have personally tested IT in the most extreme environments
And what if I told you IT worked – and that I have transferred IT to achieve other Goals – and IT works
Would you implement IT?
I am talking about the powerful effects of disciplining the brain.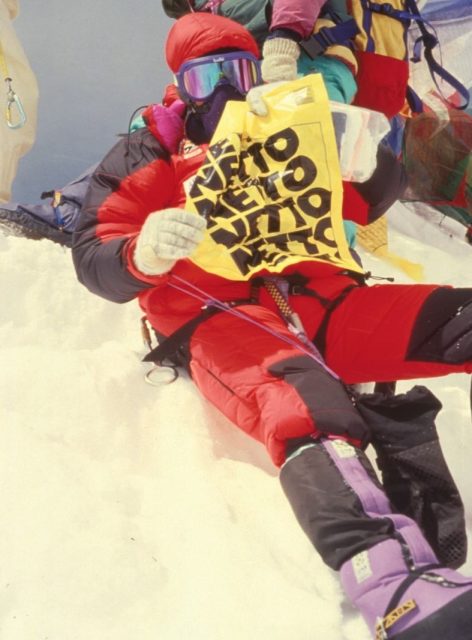 I want to share how I came to my experiencebased understanding of neuroleadership. Because I wanted to summit the highest mountin in the world EVEREST – I invented an experiment with myself in which I discovered the science underlying the most transformative step that you can invest in to mobilize progress – today.
Neuroprogramming has immediate & long-lasting benefits.
When I said YES and committed to want to climb Mount Everest in 1996 – something unprecedented happened in my brain. 
I can only describe IT as a quantum-leap explosion. 
I experienced the neuro-transforming effects of wanting something – enough.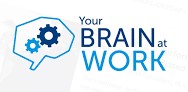 When I said "YES" to Scott Fischer's question – Do you want to climb Mount Everest with me? – the first thing I thought was: "I can not!" and I was exposed to my deepest anxieties of not being capable…. 
And then there was a quantum leap explosion in my mind – I was mobilized – I became INNOVATED. I was simply mobilized to innovate EVERYTHING – to make THE COMPELLING VISION of scaling MOUNT EVEREST come true. Starting with that I had to strategically manipulate myself into believing – I would be able to accomplish something, I did not have evidence for I could. Nothing could stop me from reaching the summit of the world's highest mountain.
I turned myself into a human gunniea pig – experimented with my brain and invented THE EVEREST WAY.
I encountered a simple process with the potential to change lives. What was mobilized in me – has been a groundbreaking and sustained enrichment. Therefore, I have dedicated my life to researching and developing HUMAN INNOVATION.
Neuro research supports that taking charge over our own brains has the potential to transform. 
THIS IS HOW THE EVEREST WAY WORKS:
1: A future goal that gives meaning to existence – will immediately increase levels of neurotransmitters because you expose the brain to novel stimulus.
2: These immediate effects mobilize you right away.  – To discipline your brain for long-lasting transformation you must develop a simple mission statement you can repeat. Continued mental focus alters the brain's physiology and functionality.
3: Through disciplined focus – you expand who you are and what you can do. Through clear focus – you innovate yourself, transform how you take action. You must implement the expanded mental potential into action towards your goals to accomplish tangible results over time
4: If you lead others. Invite them to collaborate with you to innovate a future compelling mission. To mobilize their full potential.
YOUR return of investment:
ALL PARTICIPANTS GAIN INSIGHT IN THE EVEREST PROJECT & PROCESS METHOD
THE EVEREST WAY – is simple strategy programming technique that mobilizes quantum leaps development focus, risk willingness, self-responsibility and extreme endurance.
THE EVEREST WAY – WORKS!
THE EVEREST WAY – 1 of the World's most Innovative TRANSFORMATION methods
Of course, you must choose to take responsibility for implementing. 
THE EVEREST WAY MOBILIZE THE MIND TO BE ABLE TO PURSUE GOALS FOR DECADES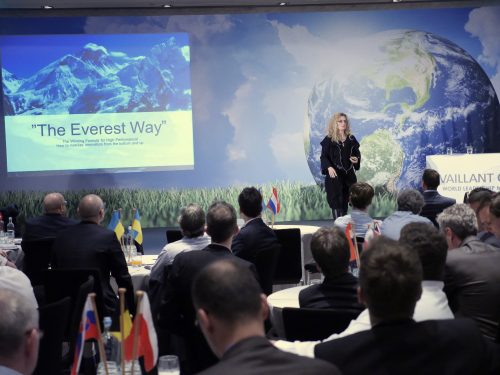 Sustainability kickstarts business results
Want a better work-life?
Are our constructs, we call work – worth living?
What kind of world are we creating – with all the innovations we have available?
When you invest in wanting to succeed with ambitious transformations, you need to have a real understanding of the complexity of the human psychology that mobilize resources in the individuals who are necessary to create the results.
What do we do with the 41% of employees who form THE GREAT RESIGNATION?.
What is your company's current situation, what market challenges are your branche facing?
What mega trends dictate your professional existence?
SUSTAINABLE DEVELOPMENT GOALS – SDG result creation – needs leaders and organizations with a genuine commitment to mobilizing others through positive influence.
If we invest in the development of human resources and succeed in innovating management skills that mobilize employee engagement – we can accelerate the creation of a future in which we want to work and live.
We must succeed with human development and radical organizational transformations!
Compelling Missions – that makes sense. And "are lived" TOP DOWN.
Well thought out job functions – (pseudowork is a killer of initiative) – utilizing and expanding the resources the employee desire to invest.
Authenticity and mutual trust. Two-way communication is essential to a productive organization's culture.
Insights that employees know what they and the organization need and that they are a resource with innovative solutions – if anyone would listens to them.
It is beyond comprehension that just 1 in 10 executives worldwide manage to release employees' desire to contribute.
And these findings have not changed for the past 20 years.
There is solid economic advantages in innovating organizational cultures that people thrive in.